B Works Gallery - a few examples of creativity & possibilities
Every woman deserves a customized bag to fit her lifestyle. Wander through the Gallery for ideas & styles.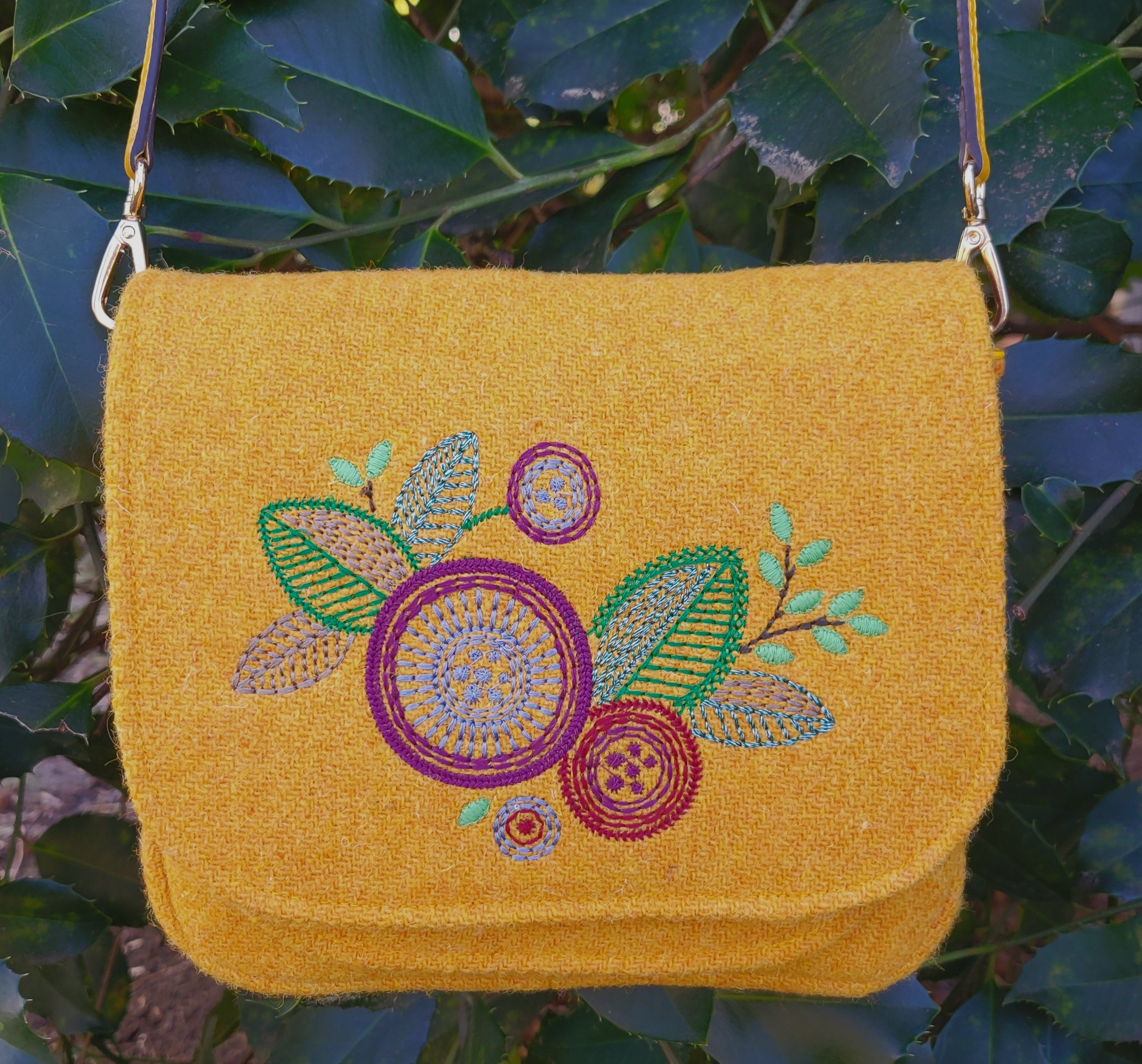 Harris Tweed Wool shoulder bag in a spectacular golden color. Leather strap & custom embroidery that coordinates with an Australian designed lining fabric. Truly "one-of-a-kind"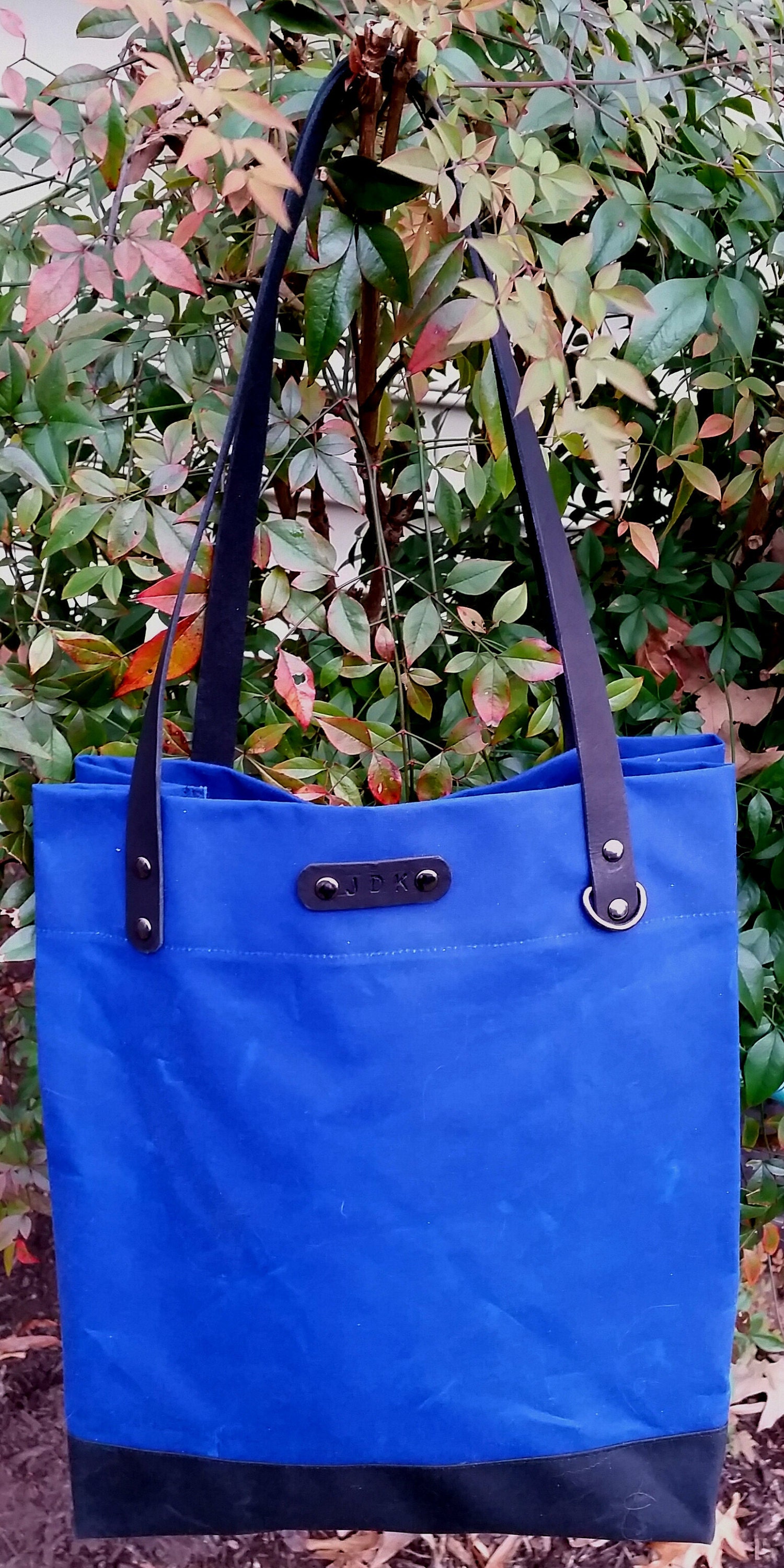 Waxed canvas/leather handles tote bag, easy to clean, light to carry makes it perfect for the market or just throwing things in before you dash off for the day.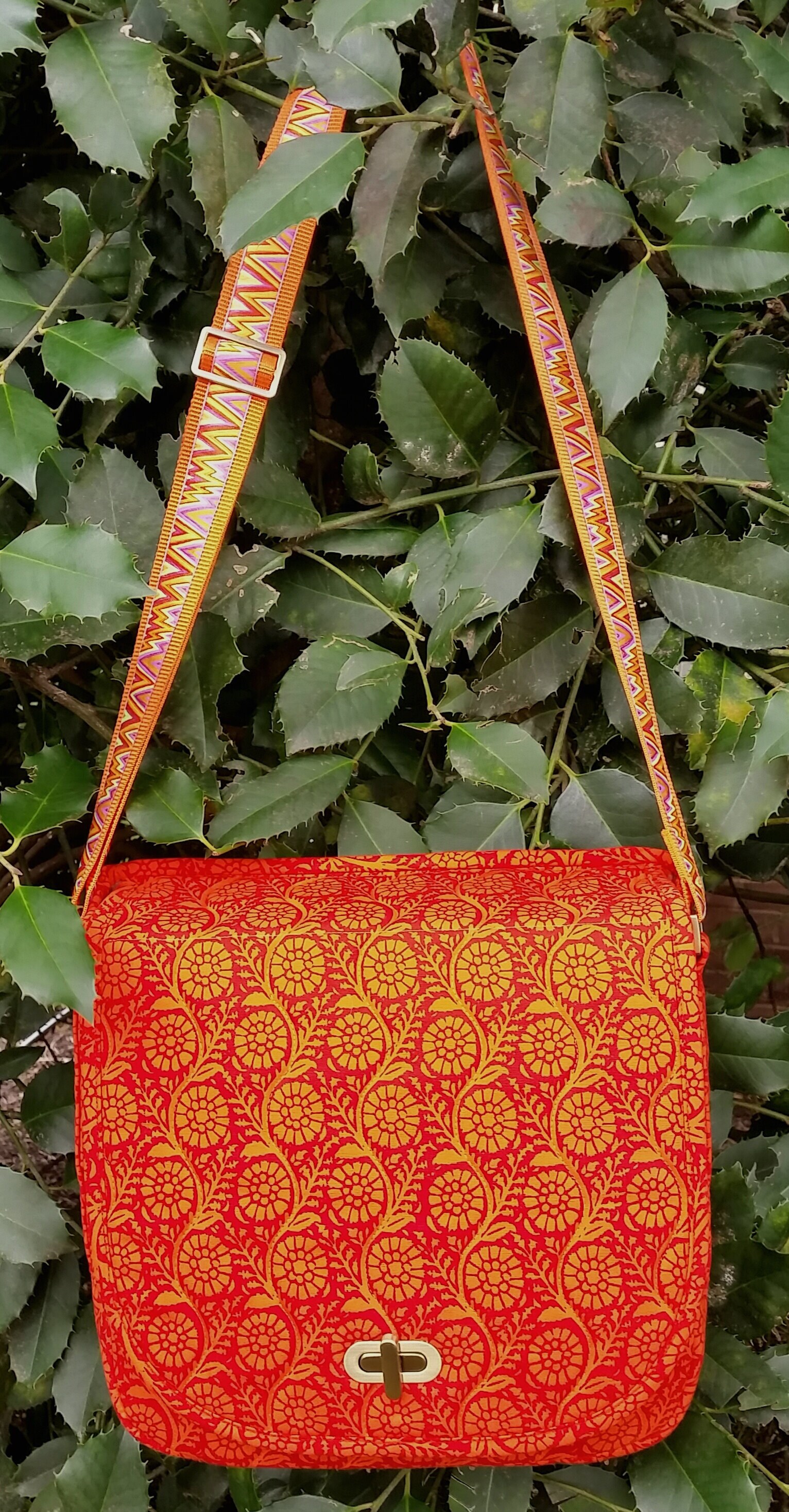 Messenger Bag in orange Marimekko fabric. My favorite size bag along with my favorite fabric to keep me smiling all day.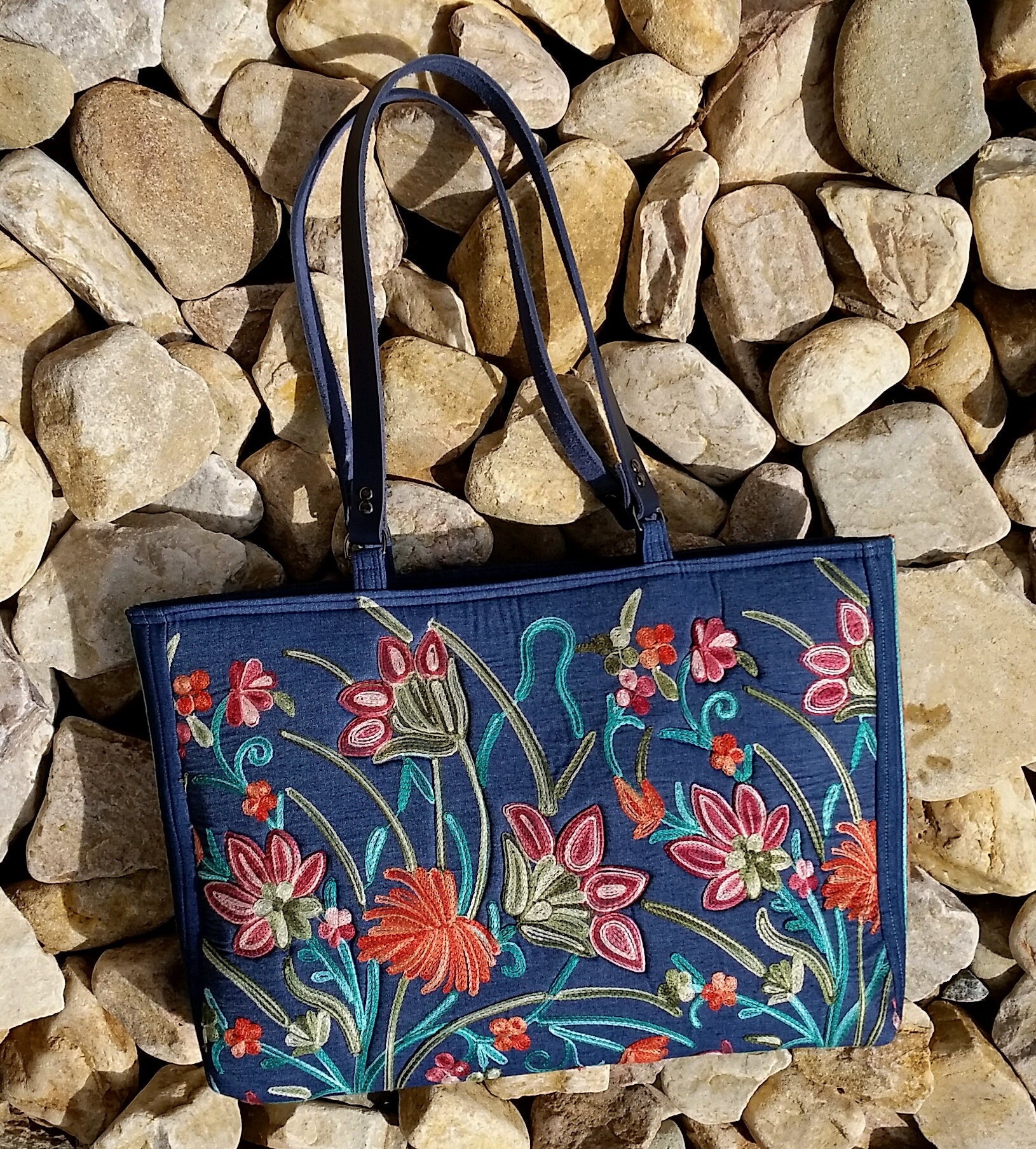 Tote Bag in lightweight denim with floral embroidery. Wide enough to carry files & laptop - a business bag with style!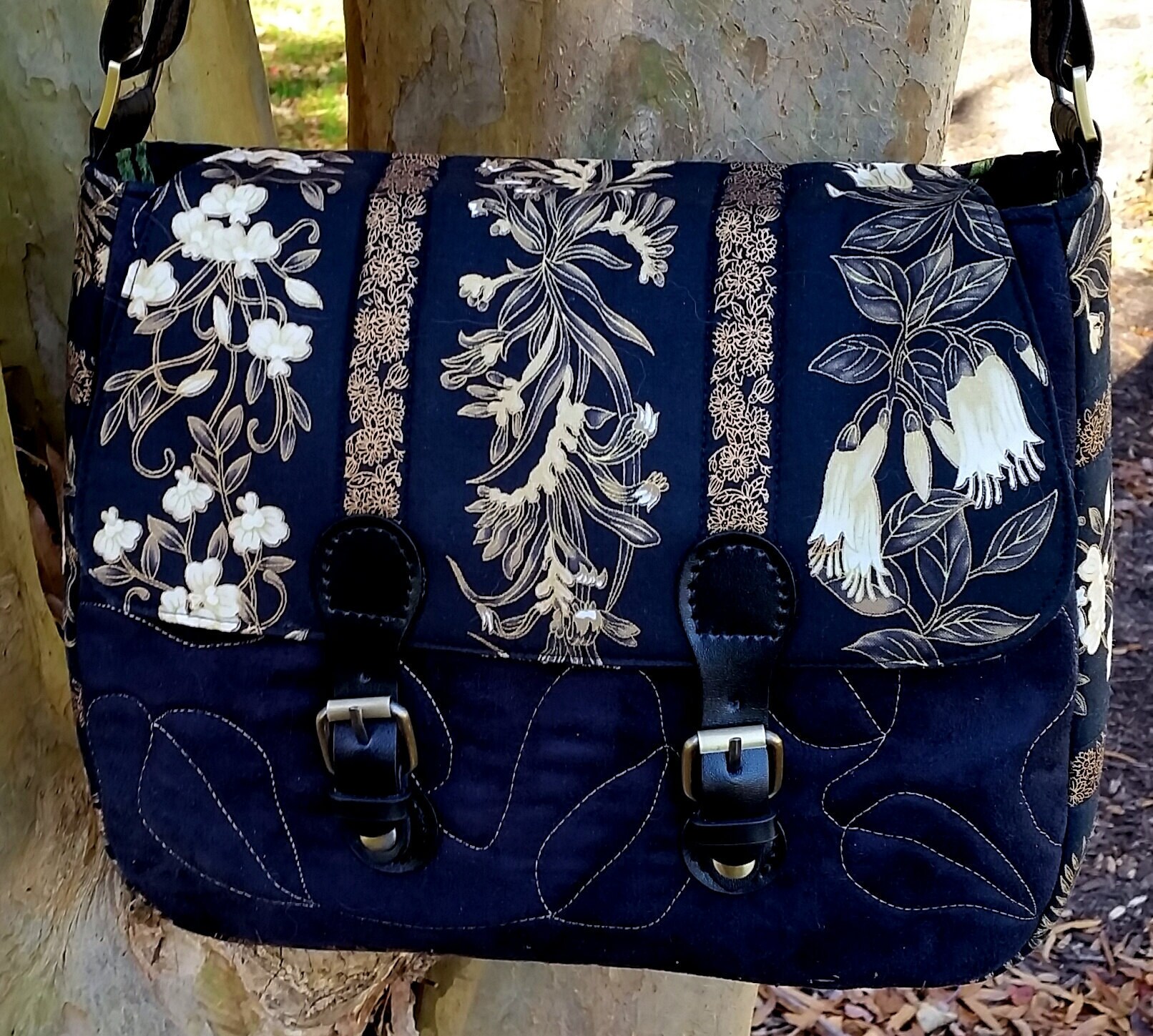 Saddle Bag is an easy to carry shoulder style & large enough to hold a days worth of treasures. Fabric is from the Under the Australian Sun collection.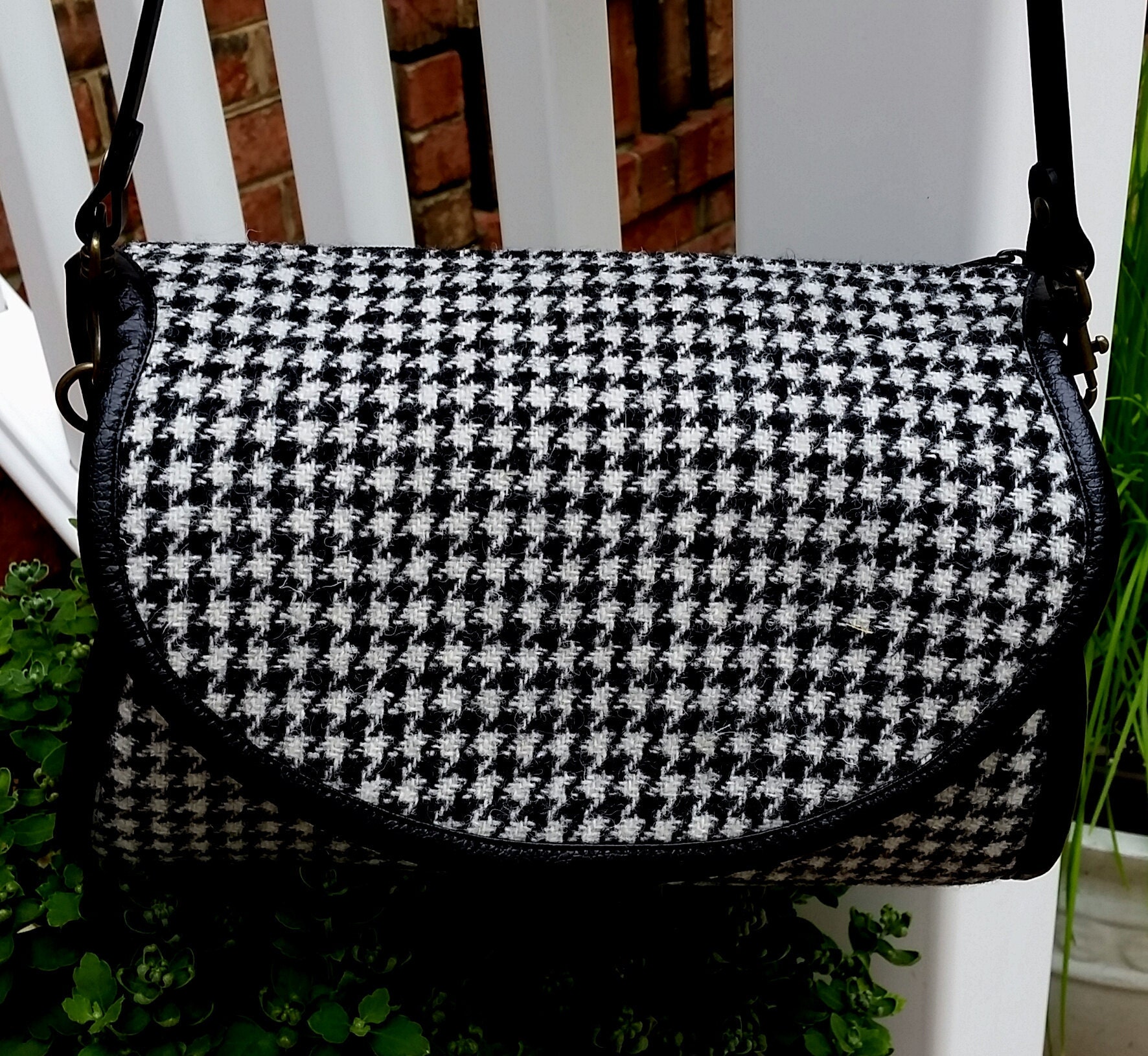 Black & White Houndstooth Harris Tweed. Bag expands to showcase 3 zipper pockets and 4 storage areas.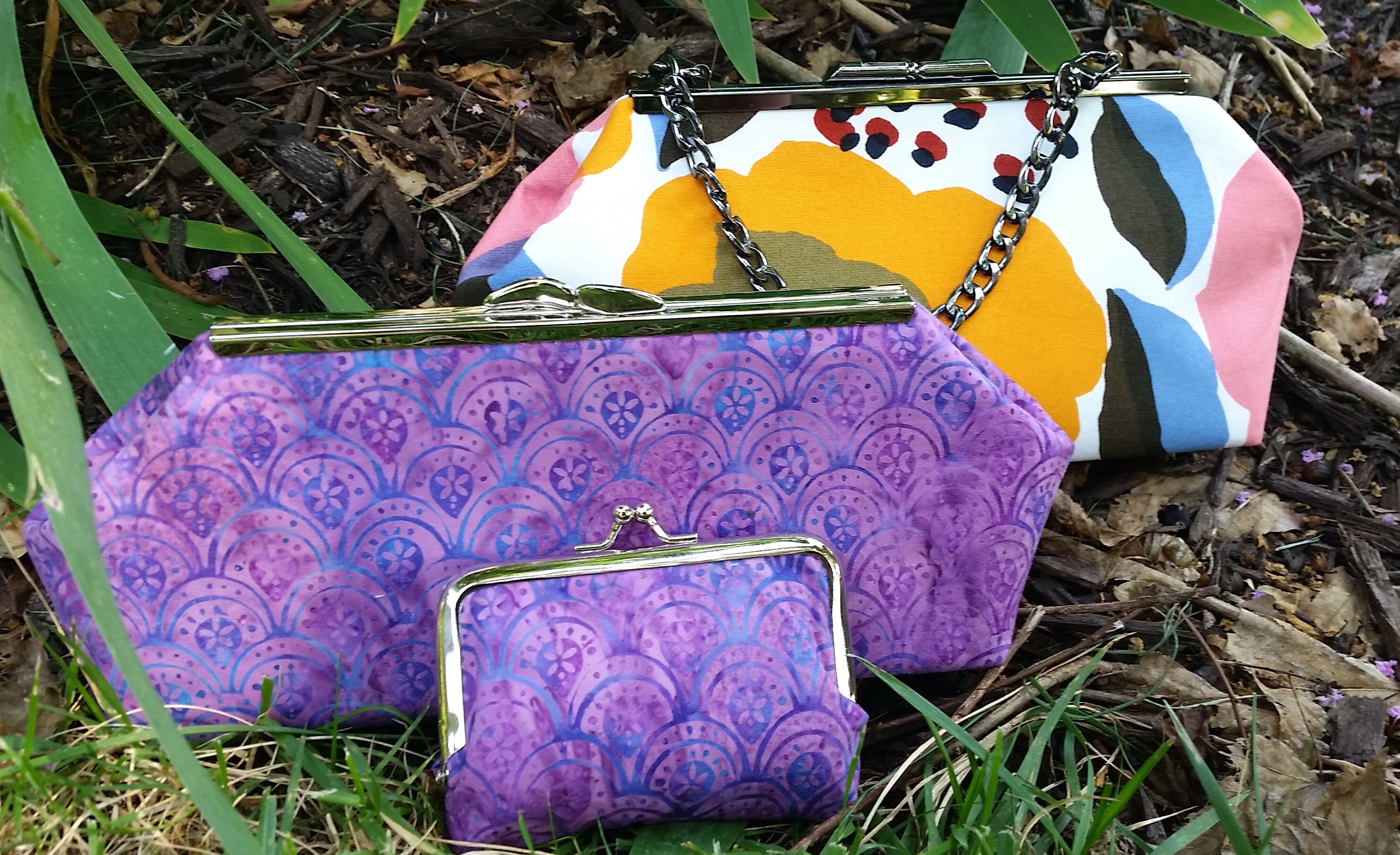 Clutch bags make the perfect gift for bridesmaids. Add a chain strap for easy carry.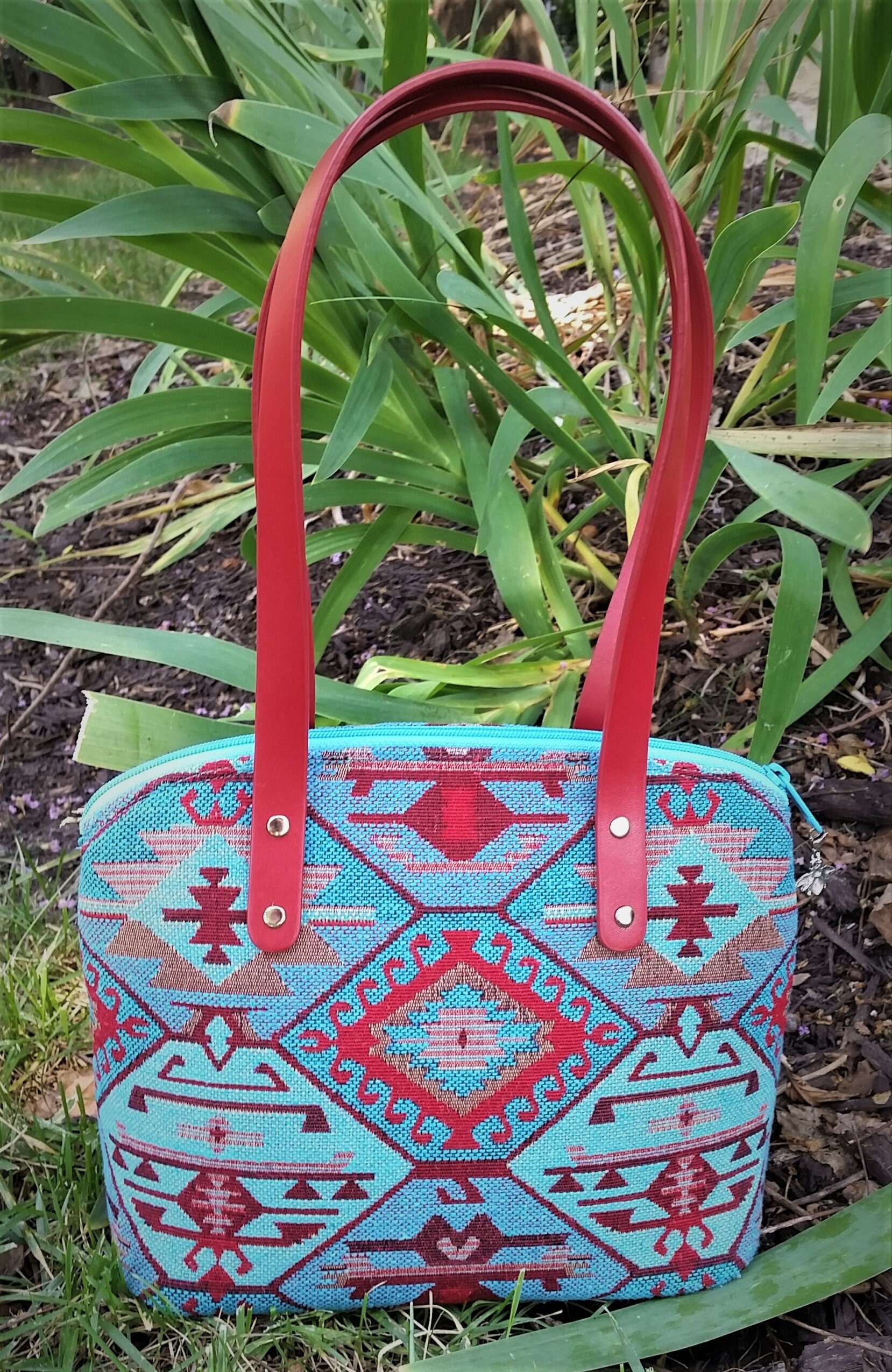 Turkish Kilim Tote Bag. Design is inspired by the traditional Anatolian/Turkish Kilims. Fabric is a cotton polyester weaving made in Turkey. Turquoise with red leather straps and silver color rivets.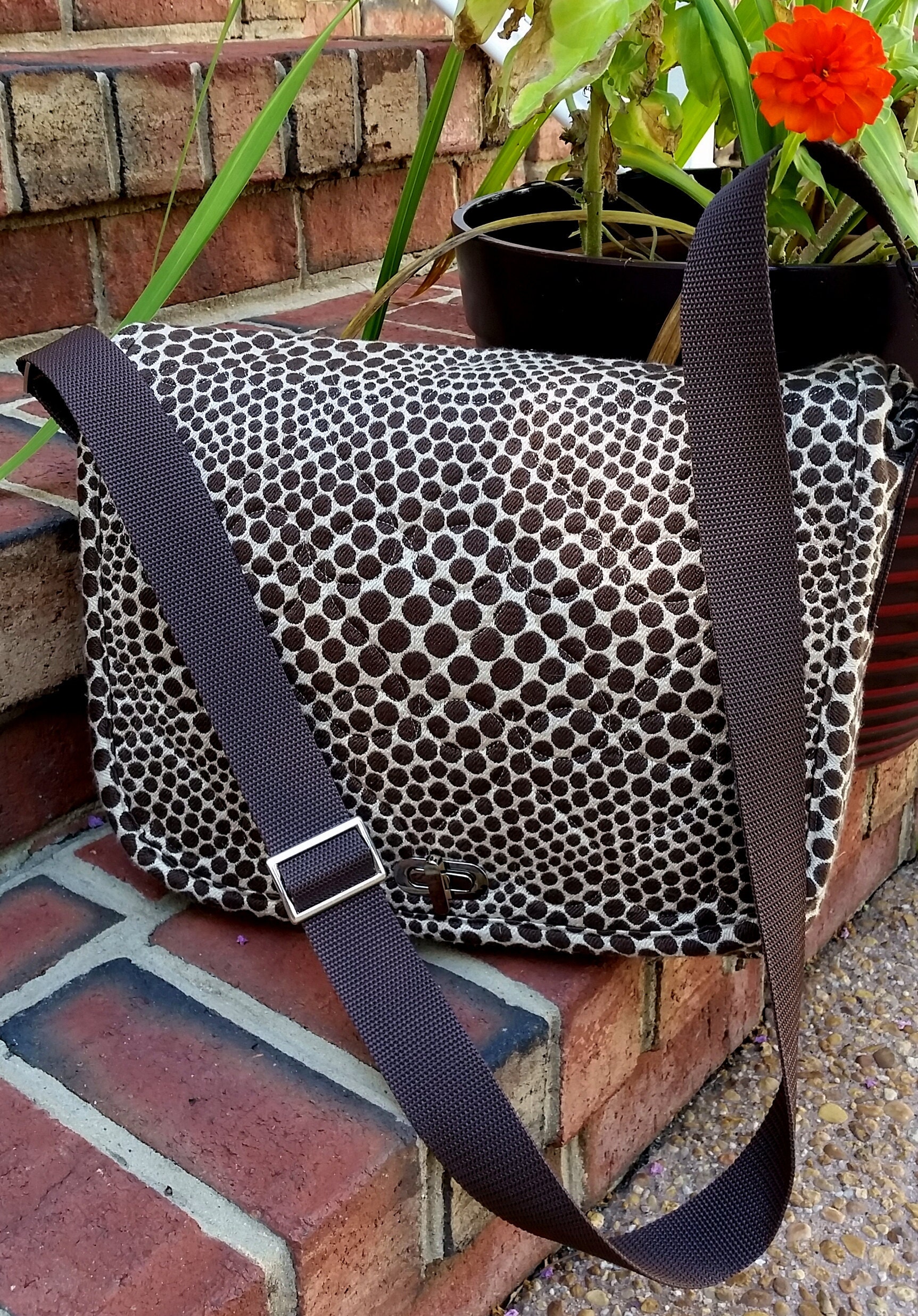 Messenger Bag (medium)….a favorite size for going to appointments. Large enough for all your essential electronics, bottle of water and a few sewing projects besides.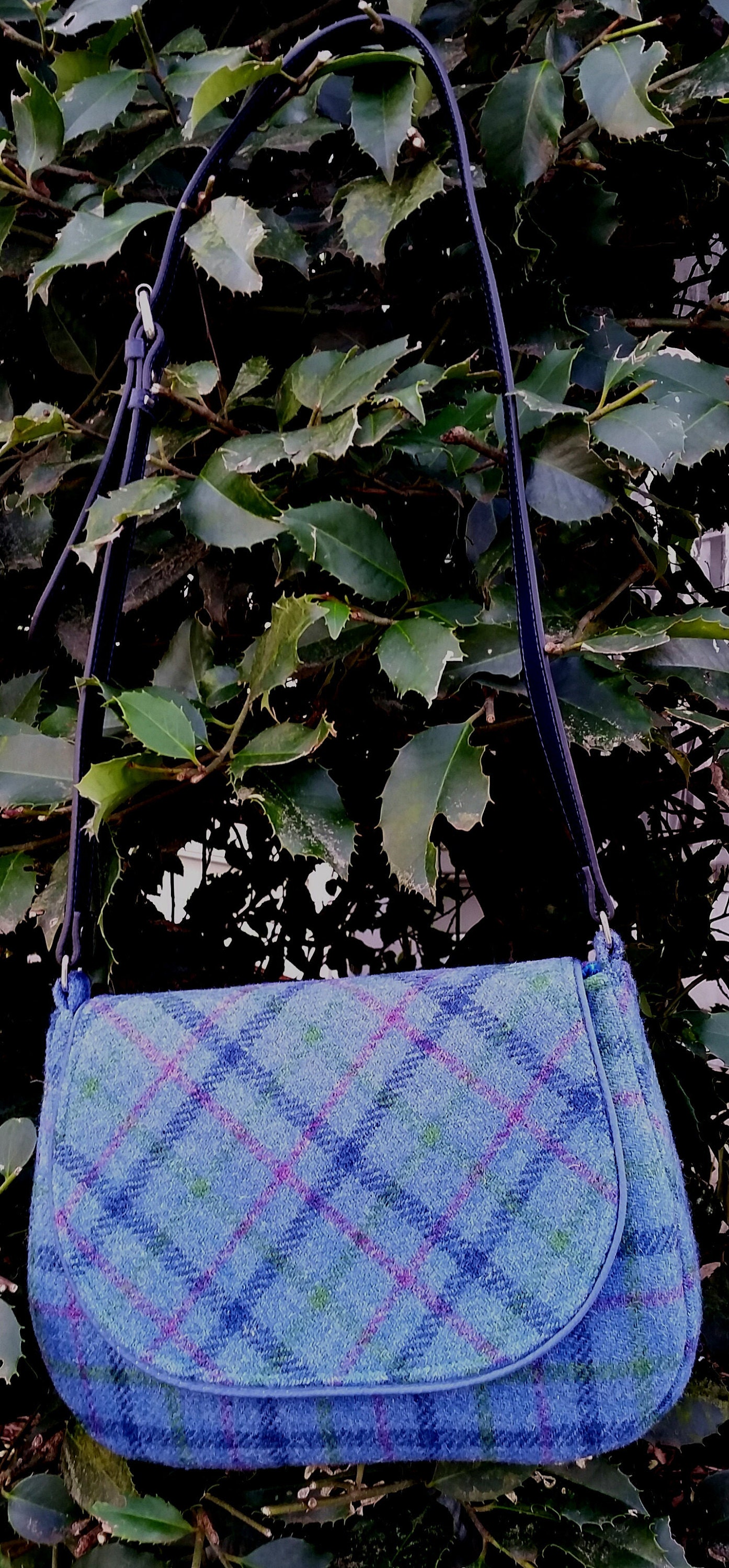 Harris Tweed in Blue Plaid with adjustable leather strap. Tweed is straight from Scotland!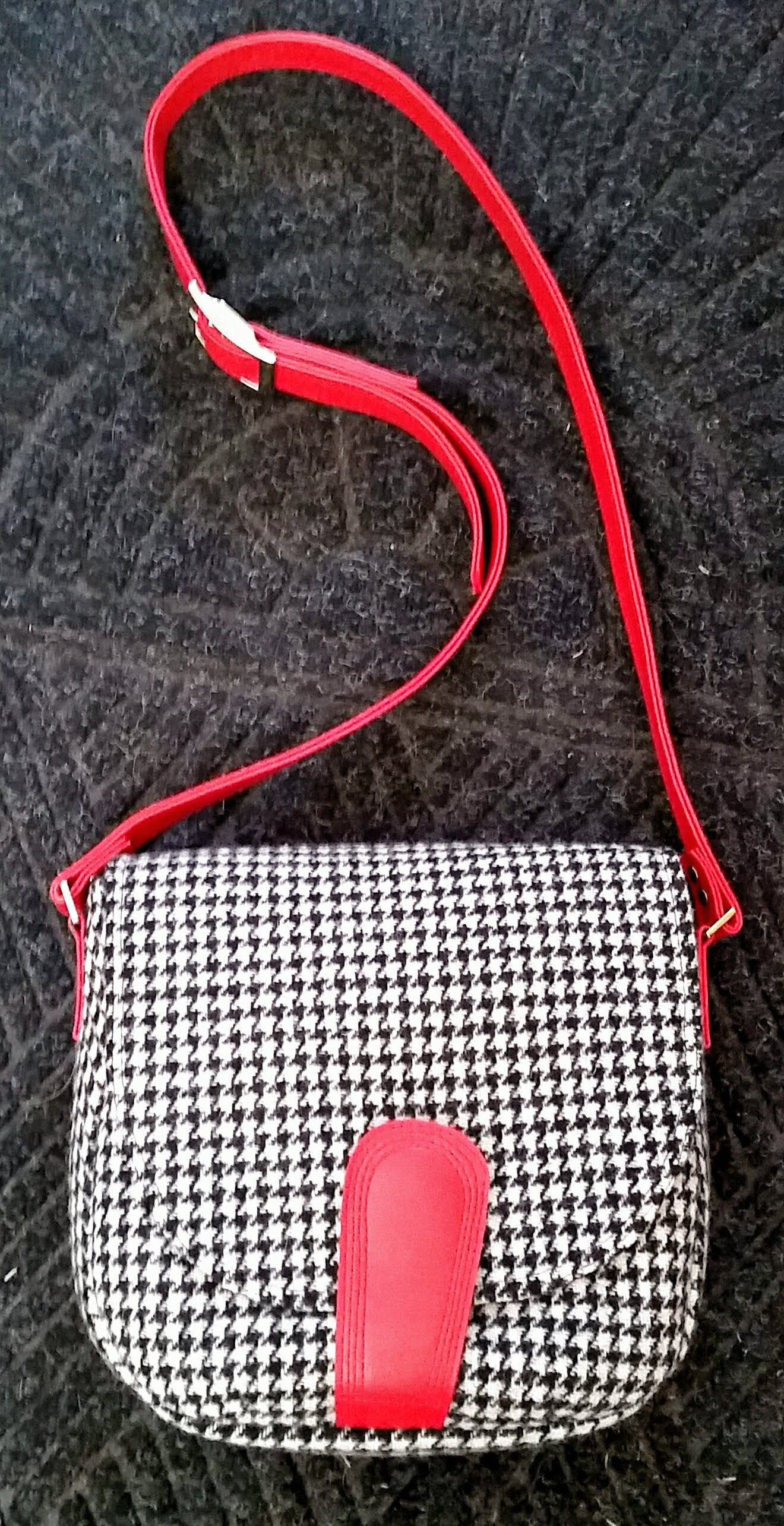 A classic bag with a twist of red. Harris Tweed back & white houndstooth pattern with red strap and brilliant red interior.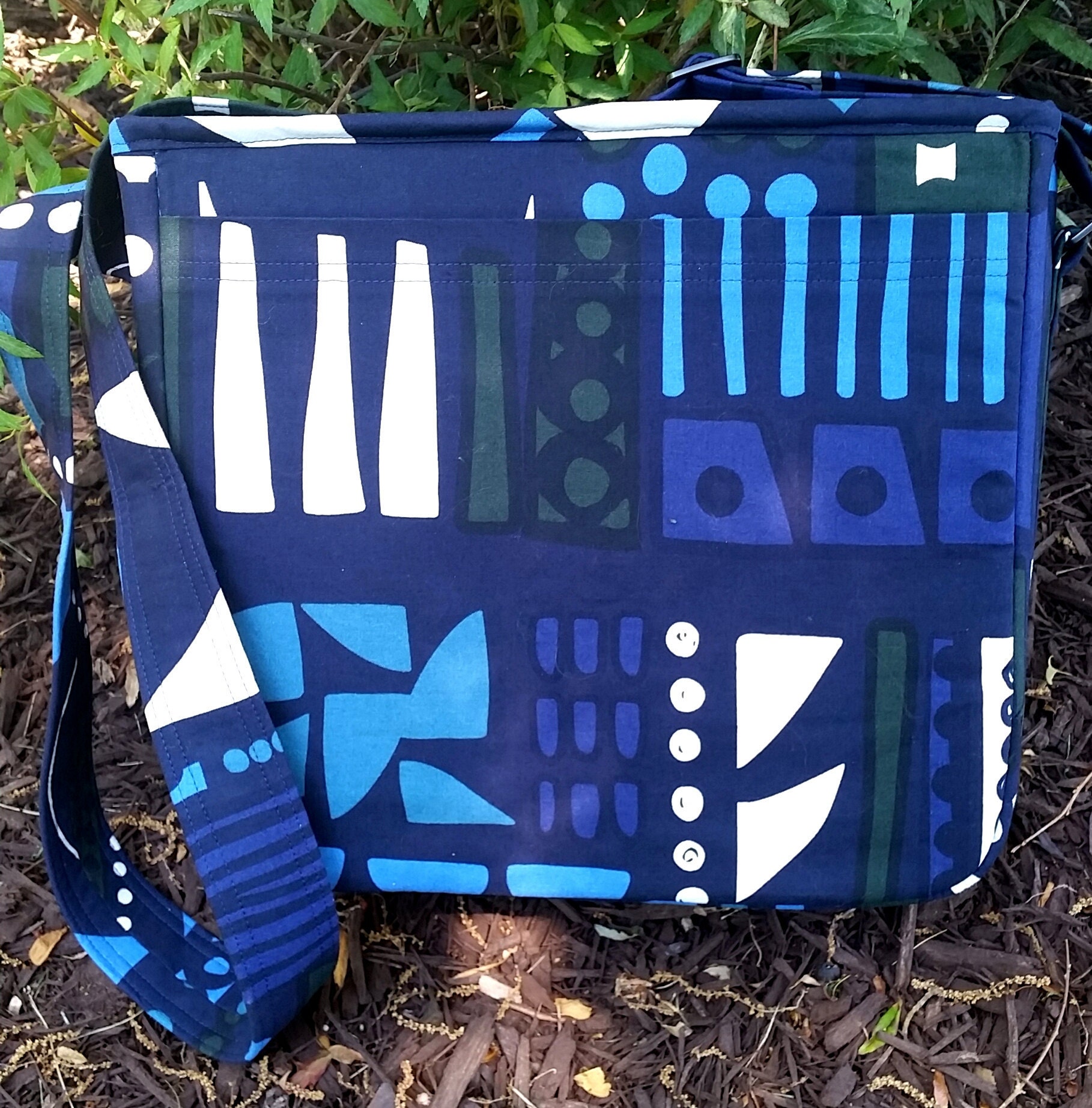 Messenger Bag using Marimekko fabric with blue geometric designs - a real beauty inside & out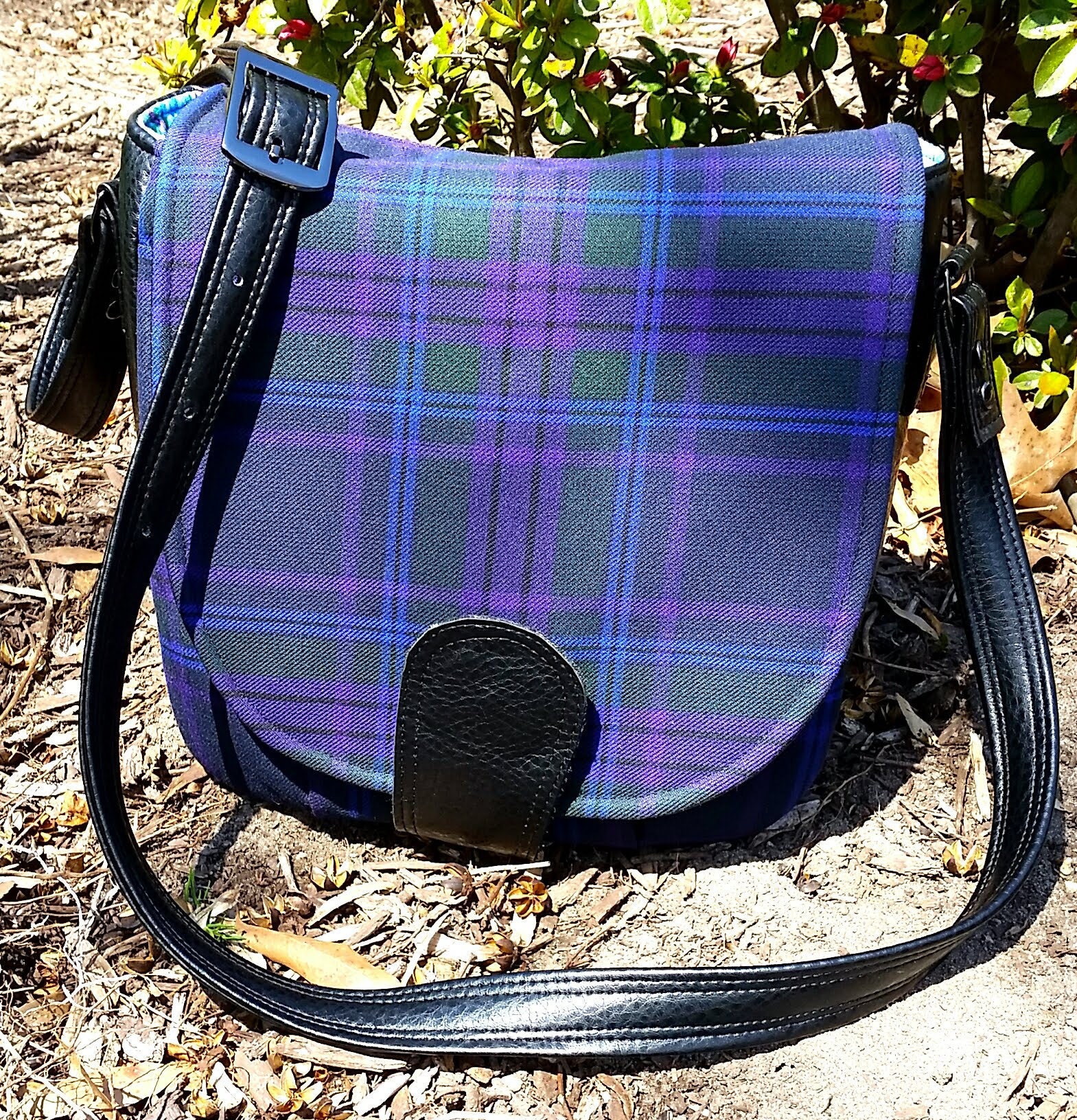 A favorite style made with wool plaid from Scotland. Tartan colors are blue with green & purple.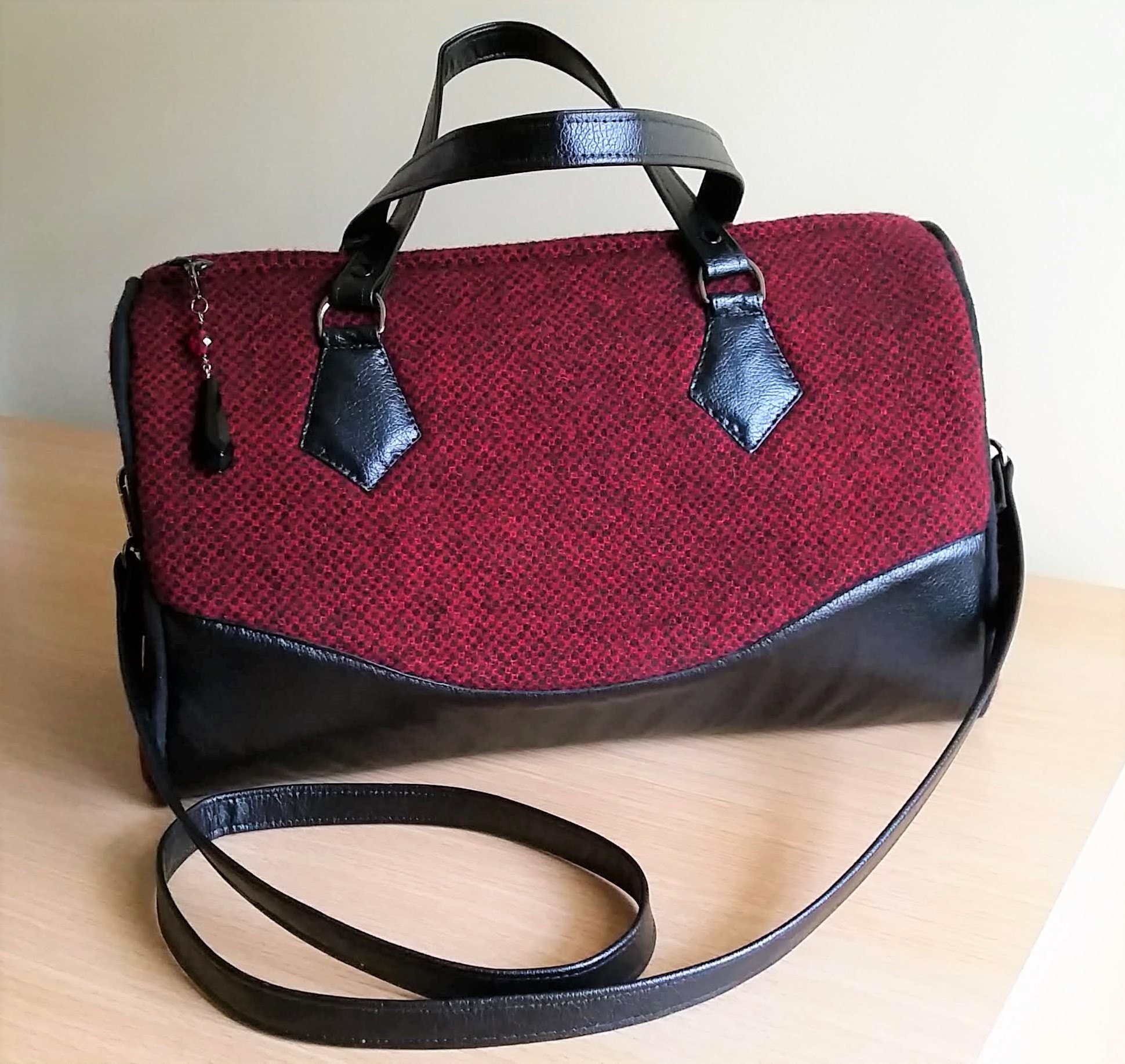 This little beauty can be hand-carry or crossbody. Made with red/black wool, it's a winter favorite!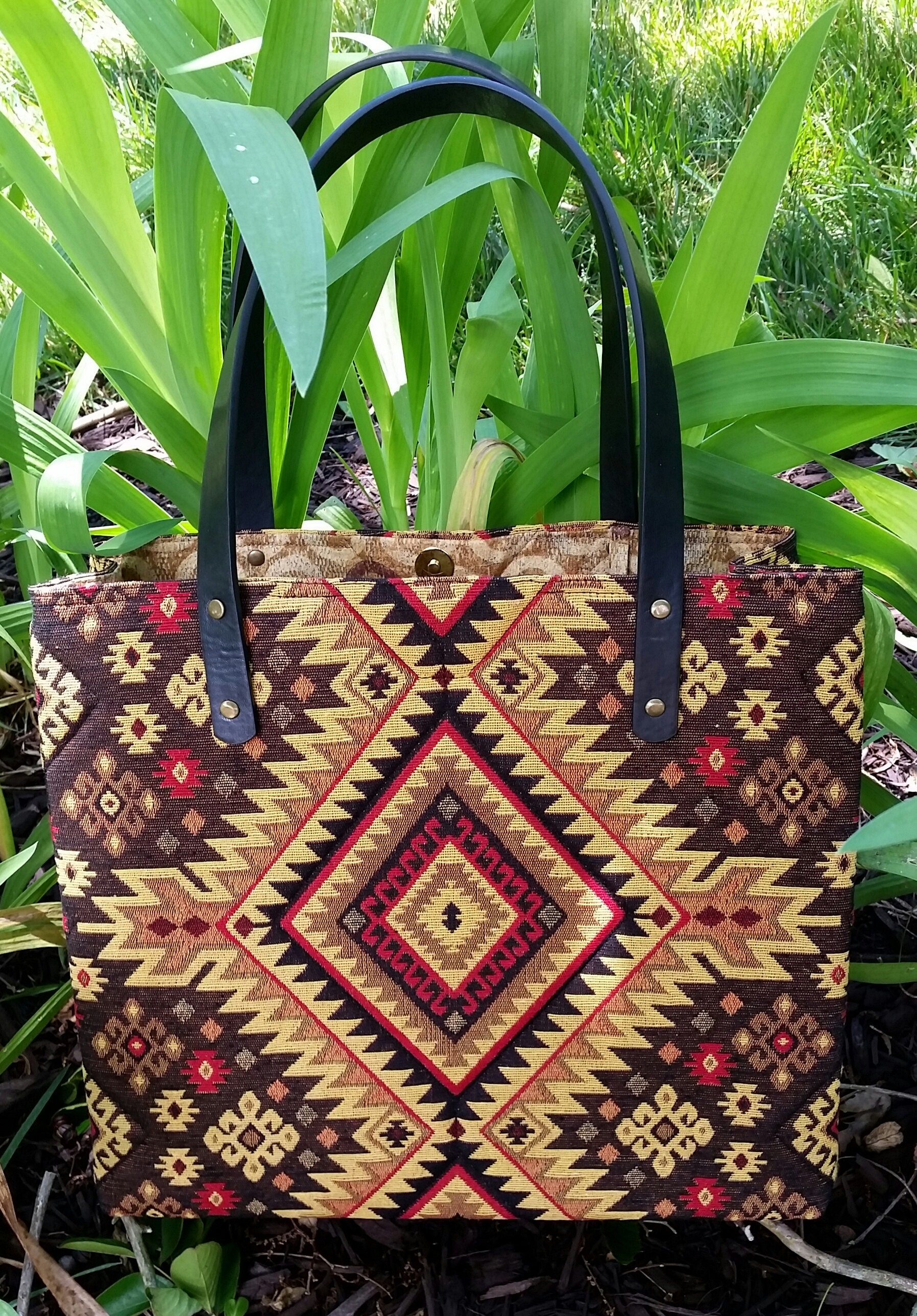 Turkish Kilim Tote Bag. Design is inspired by the traditional Anatolian/Turkish Kilims. Fabric is a cotton polyester weaving made in Turkey. Black leather straps with bronze rivets.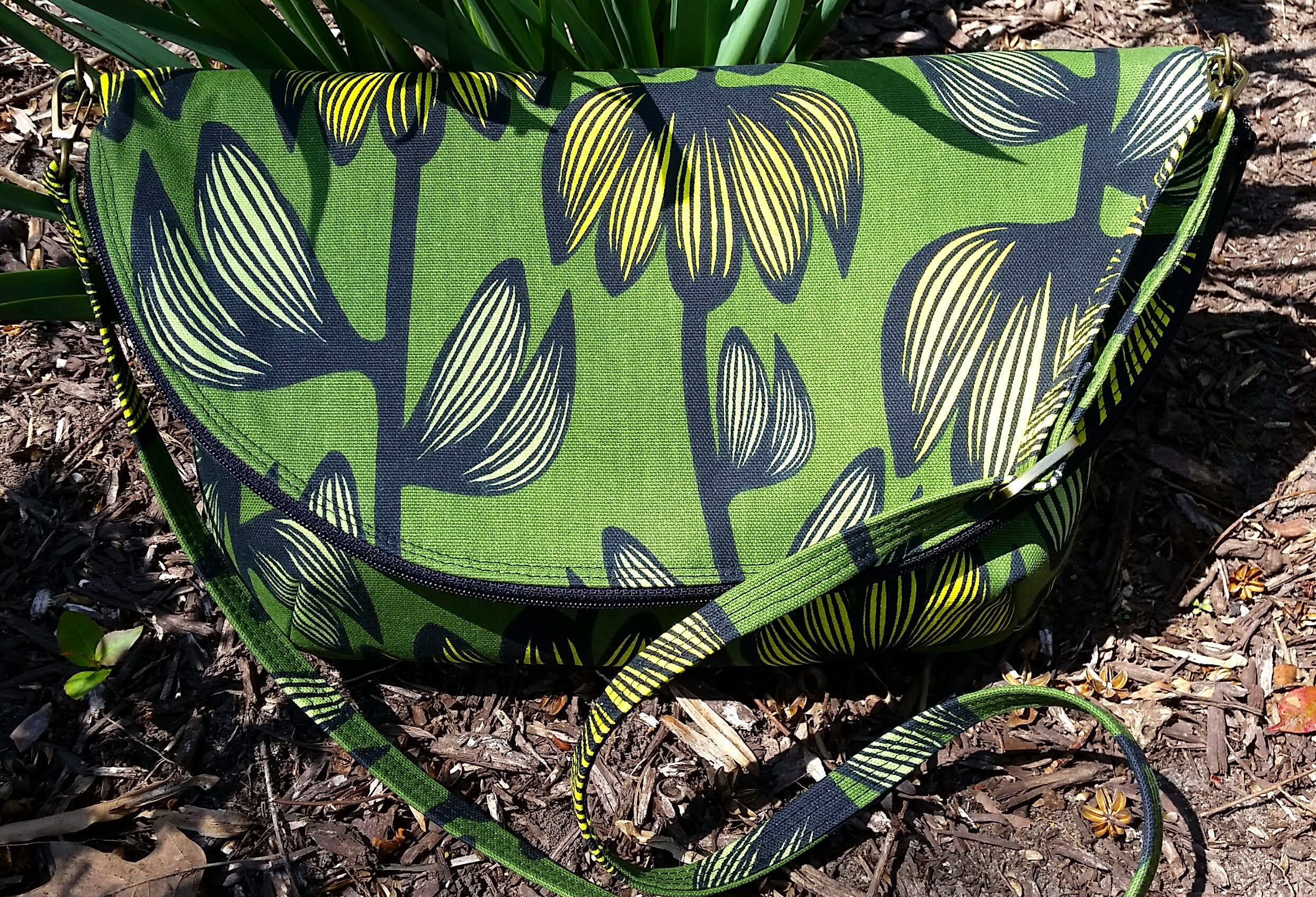 Finnish Fold Over crossbody bag made with Finlayson fabric in greens & gold. Opens to tote bag size when needed,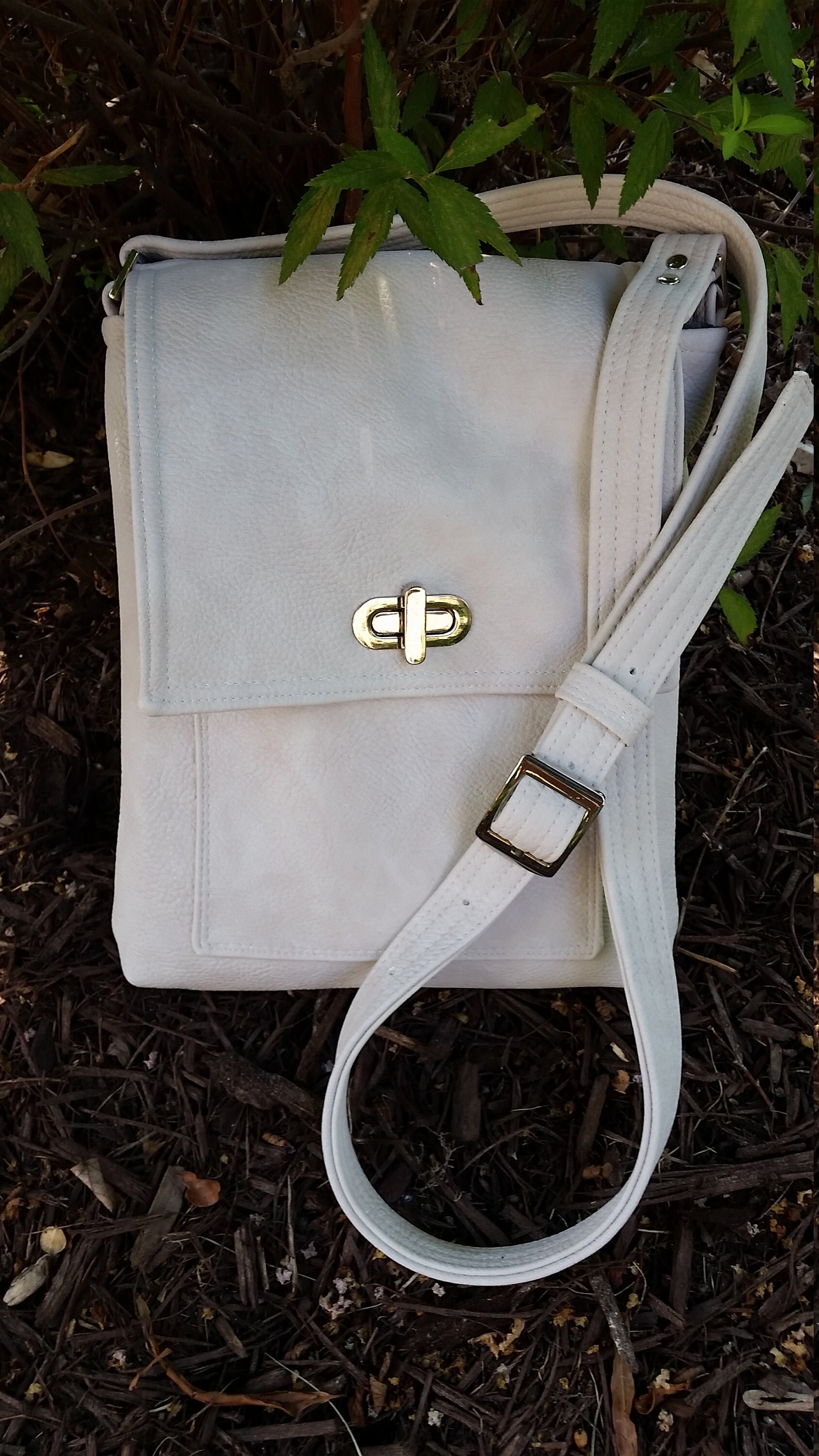 Messenter Bag (small)...a favorite size for travel. Easy to wear crossbody and large enough to carry electronic essentials.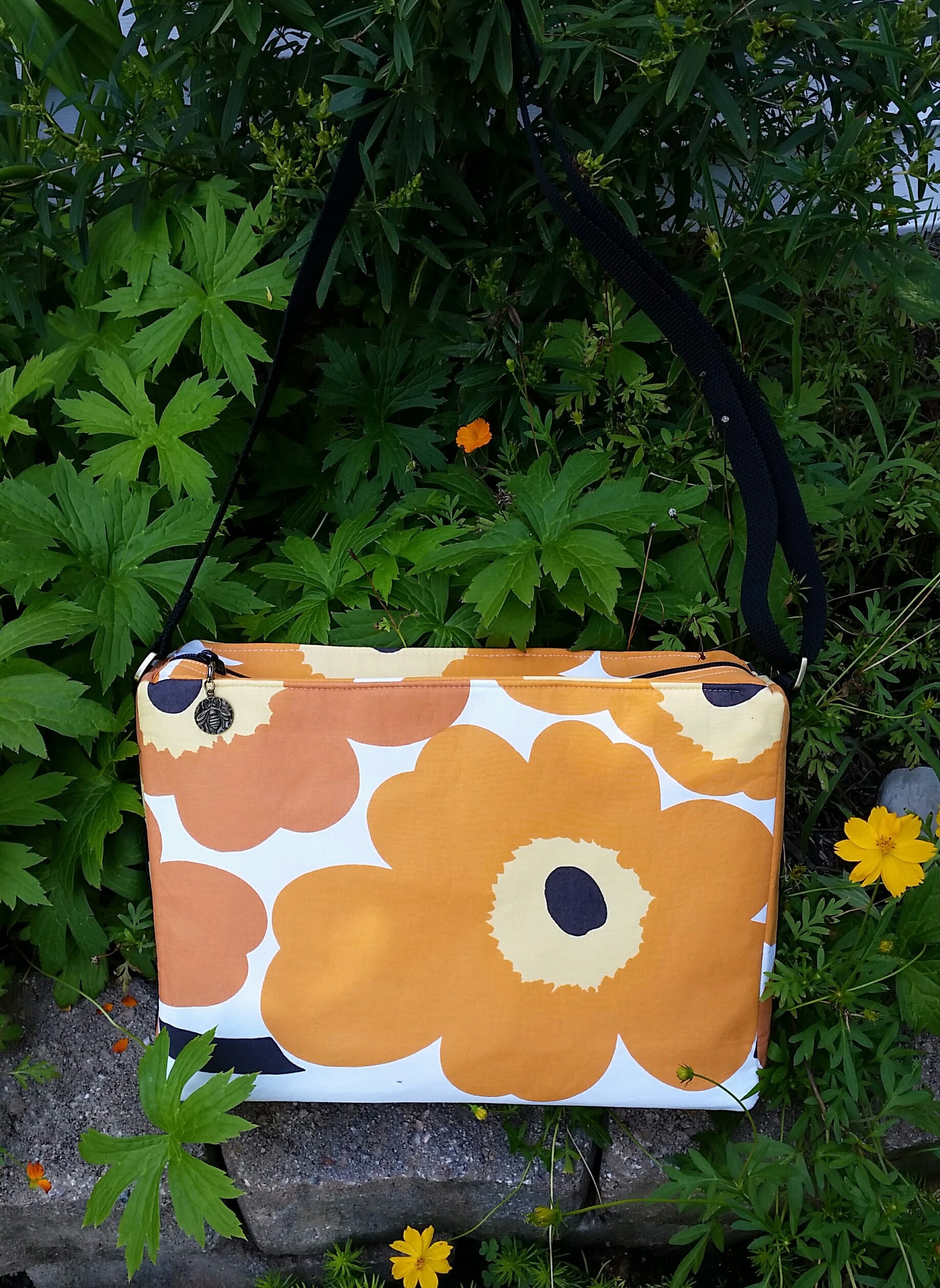 Work Bag made with Marimekko's Unikko design. This will not get lost among the classic black briefcases...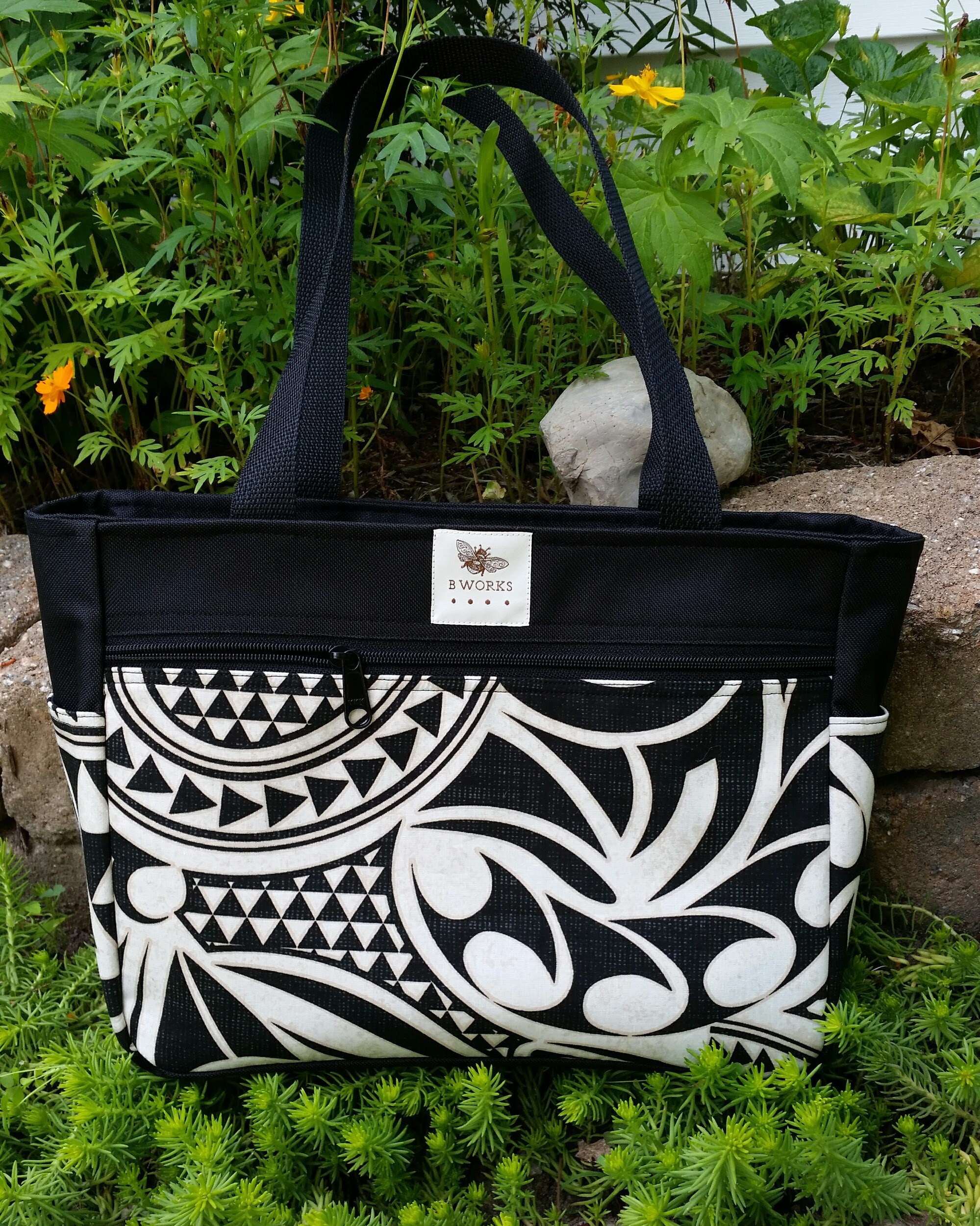 Tropical Bag made for wear-n-tear at the beach or on the road. Waterproof canvas covered with Hawaiian print That beach sand can easily be washed away with water.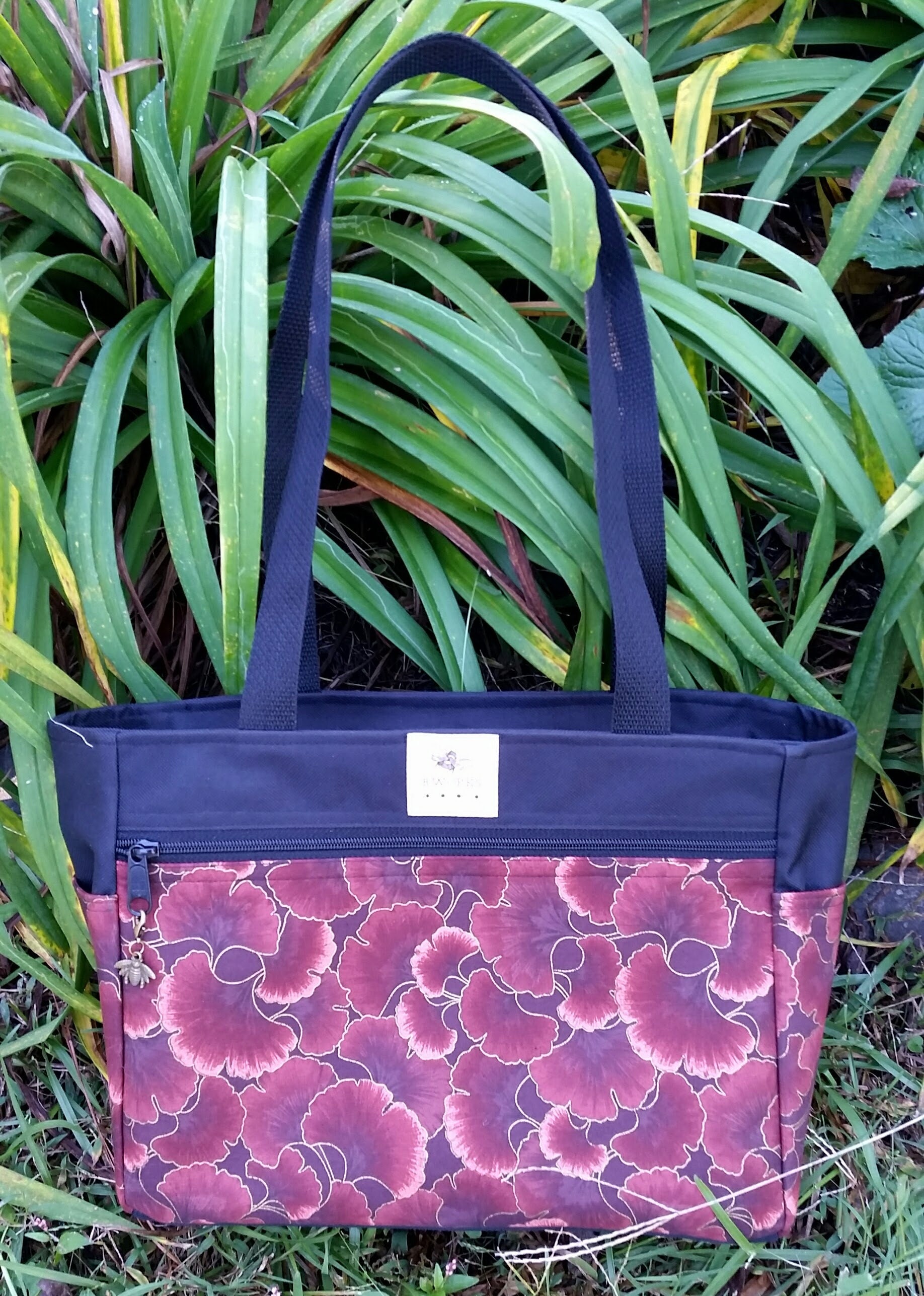 Tropical Bag of gingko leaves. Beautiful fabric that was set aside waiting for just the right purpose...a real beauty that travels everywhere.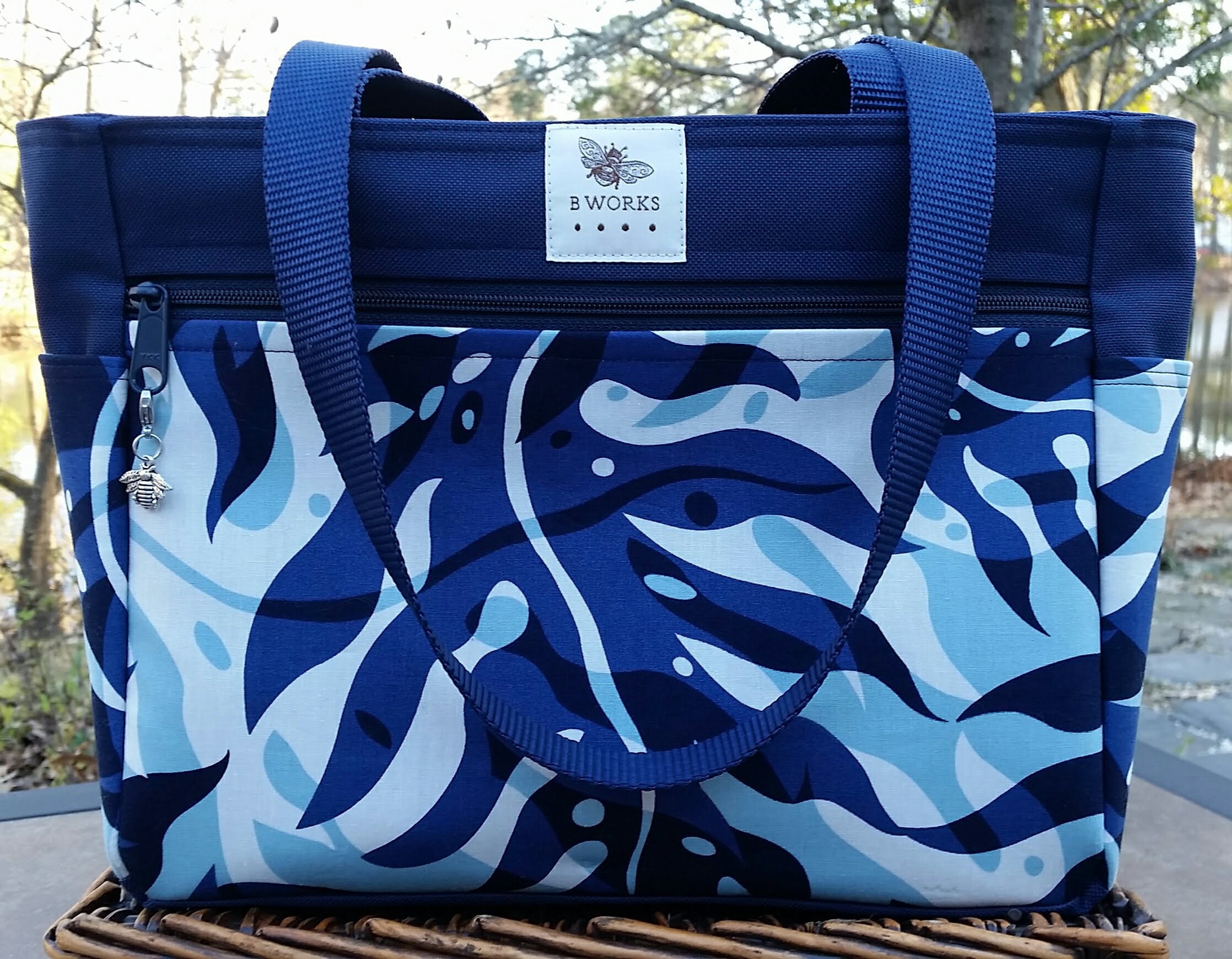 Tropical Bag with Hawaiian print. Can easily serve as a shopping bag, beach bag or everyday purse.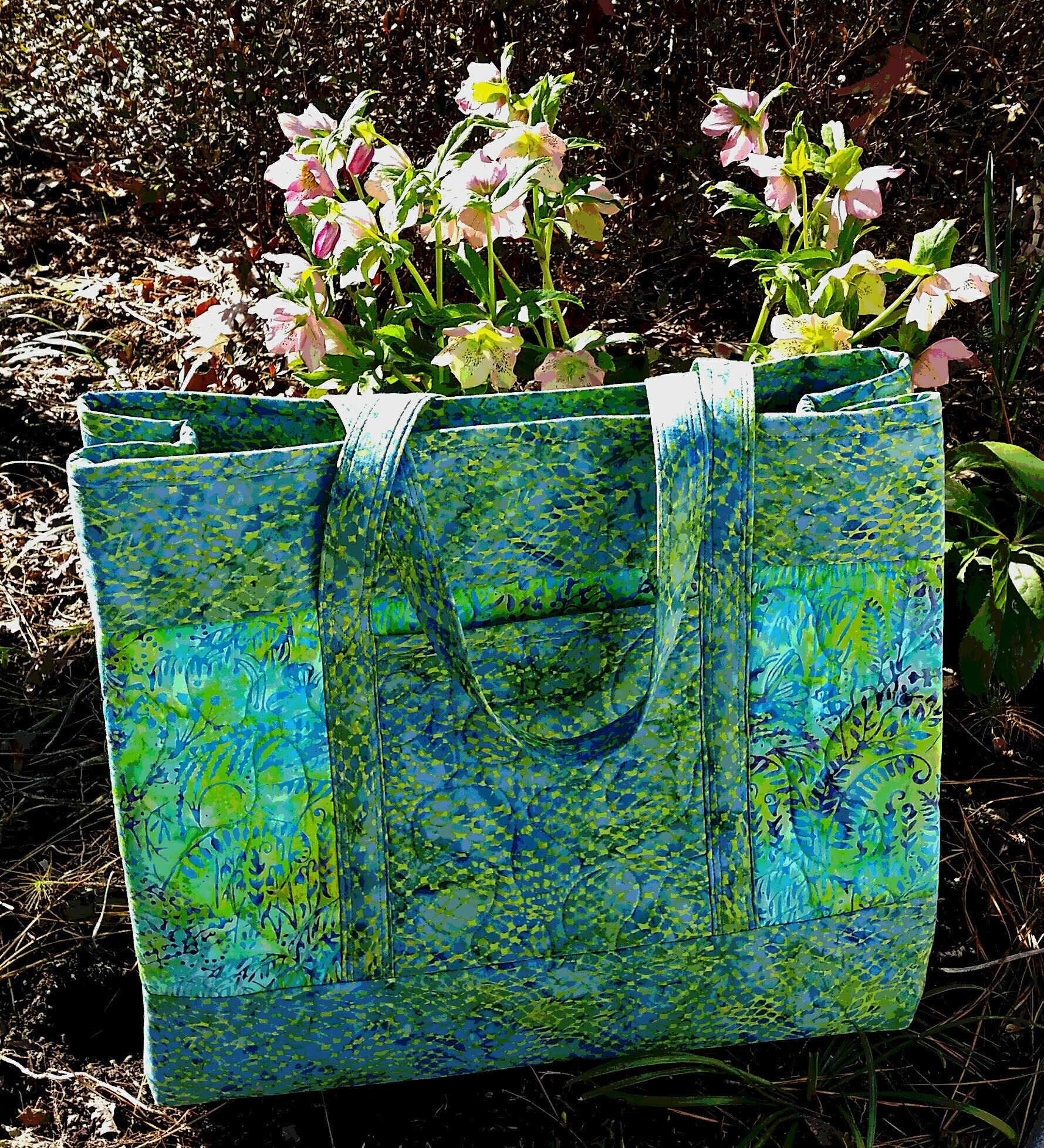 A true beach bag large enough for 2 beach towels and all the gear you need to soak up the sun & surf. Toss it in the washer with like colors and it comes out perfect.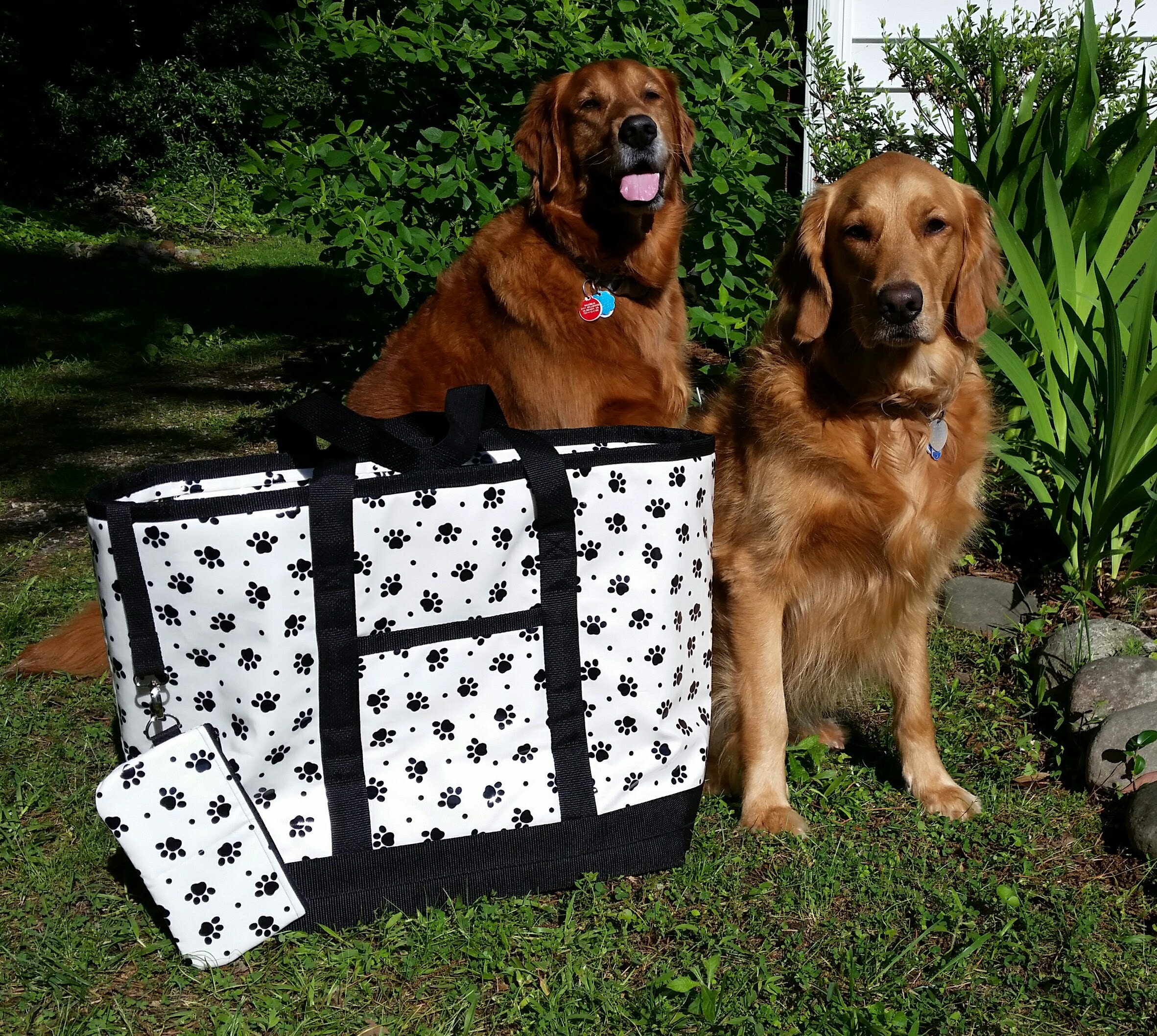 Even dogs need travel luggage. Paw prints easily identifies these owners & laminated to keep those muddy feet from staining the fabric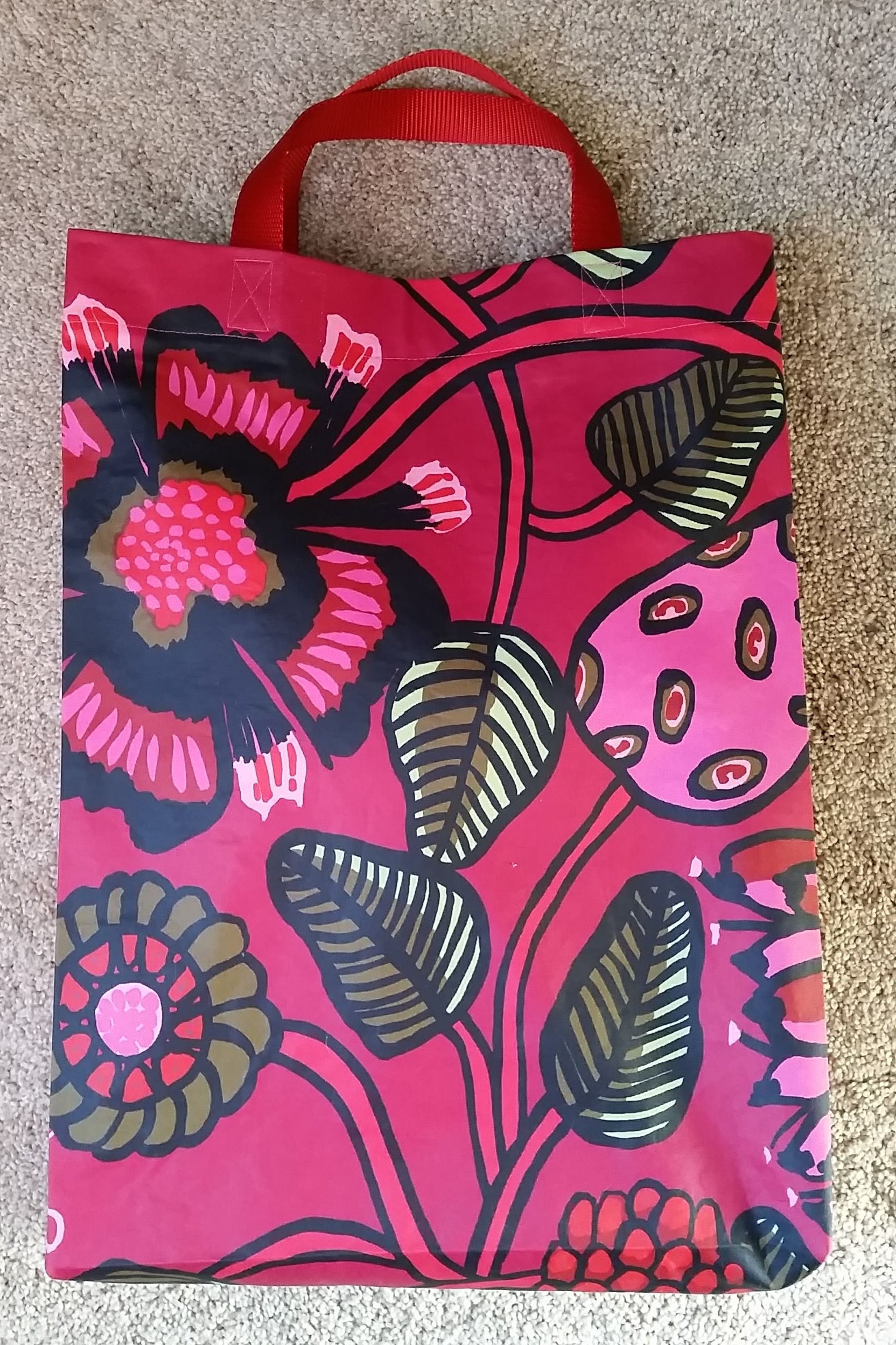 Shopping Bag using Marimekko fabric. In addition to handles, an optional crossbody strap is hidden inside the bag.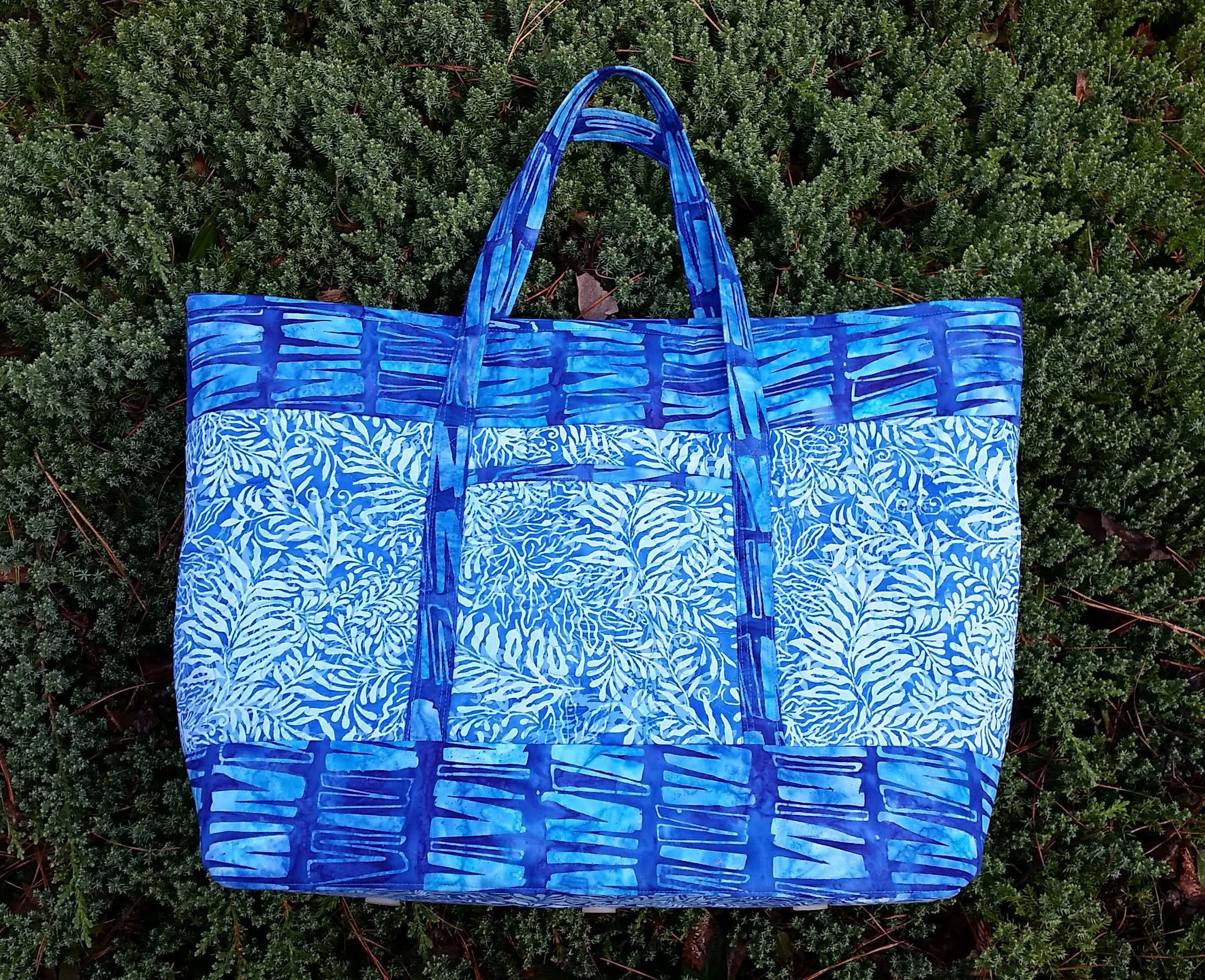 Large Beach Bag for a day in the sun. This one coordinates with the travel duffle bag set.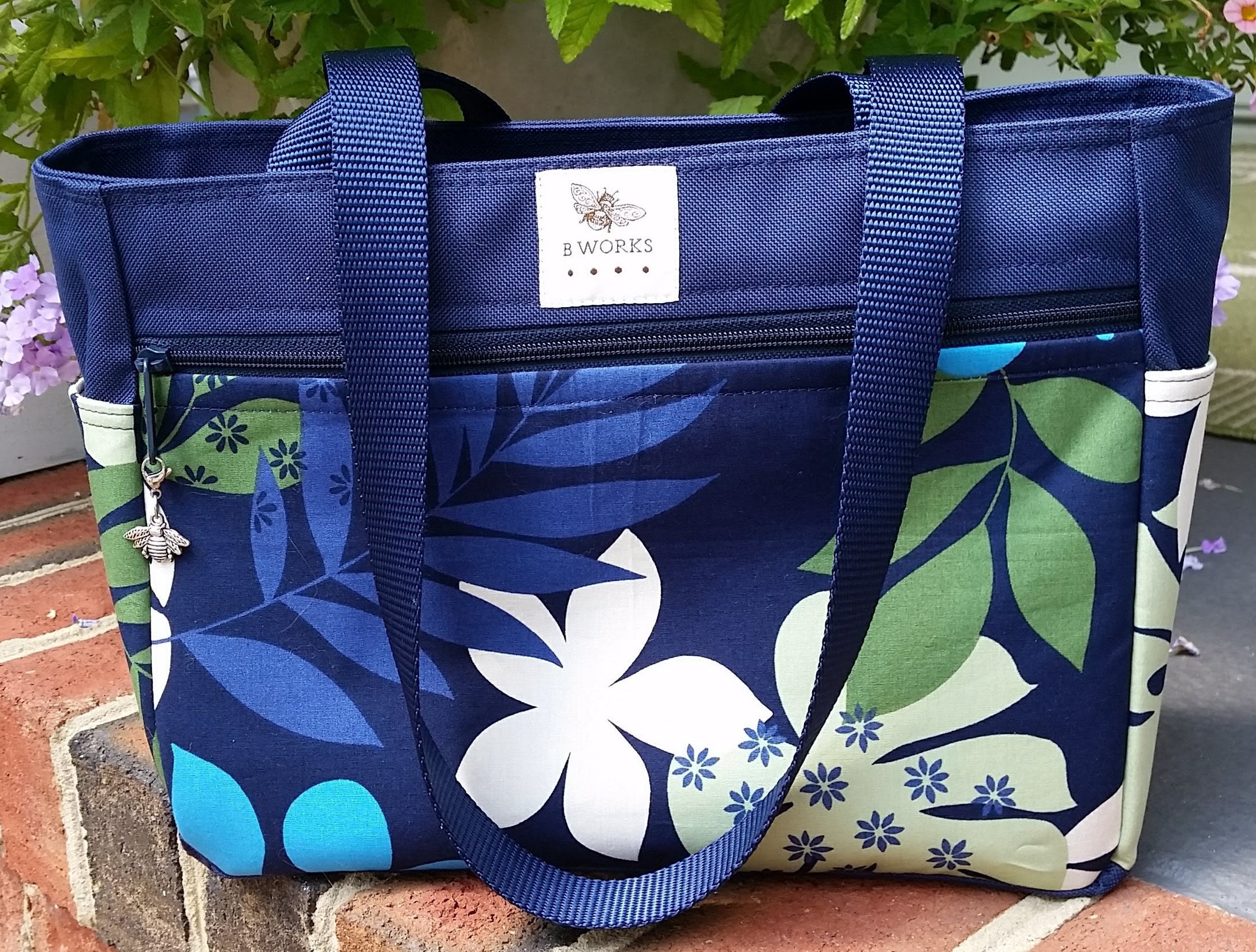 Tropical Bag with Hawaiian print fabric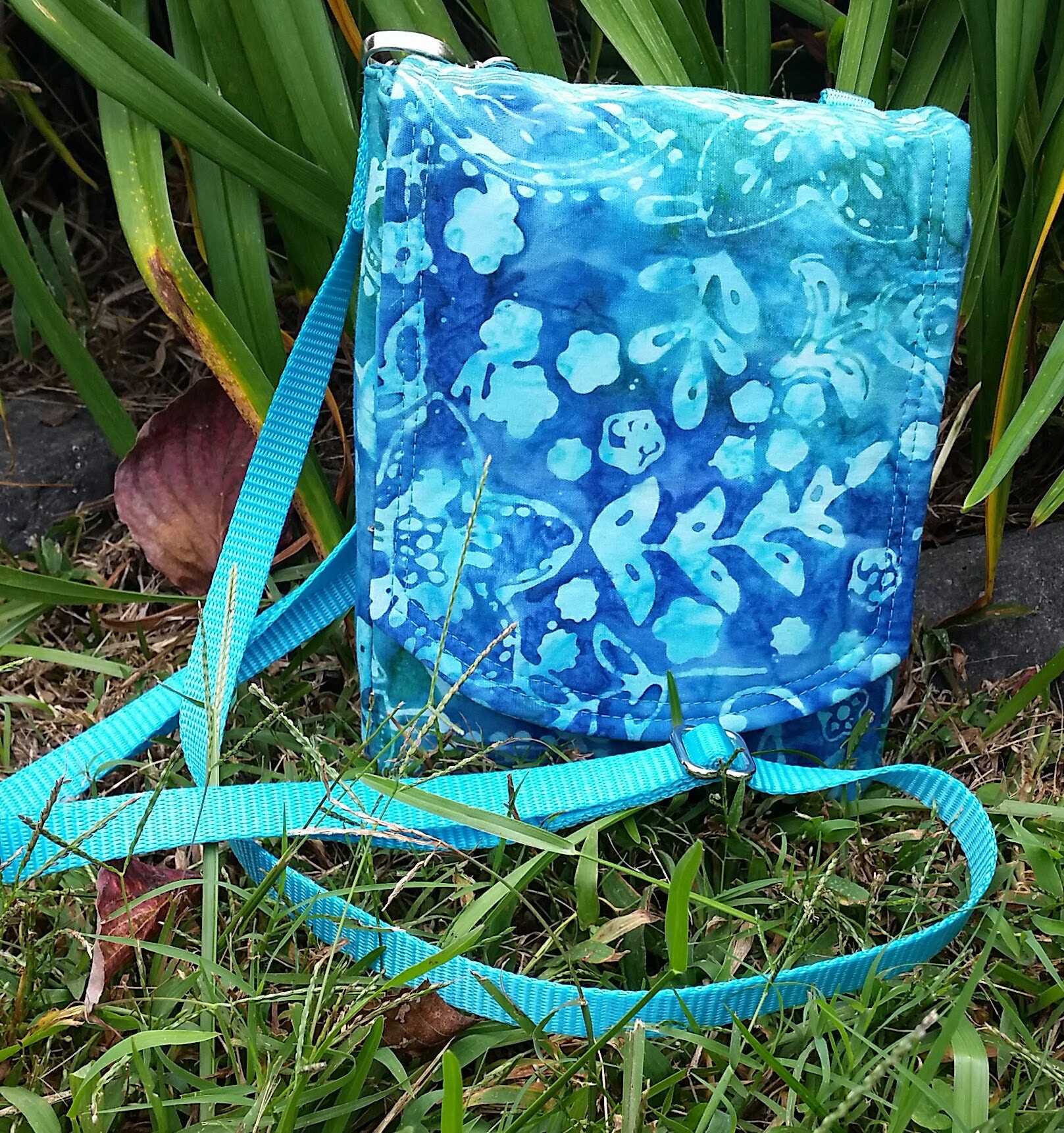 Travel Crossbody style that is easy to wear and still be hands free.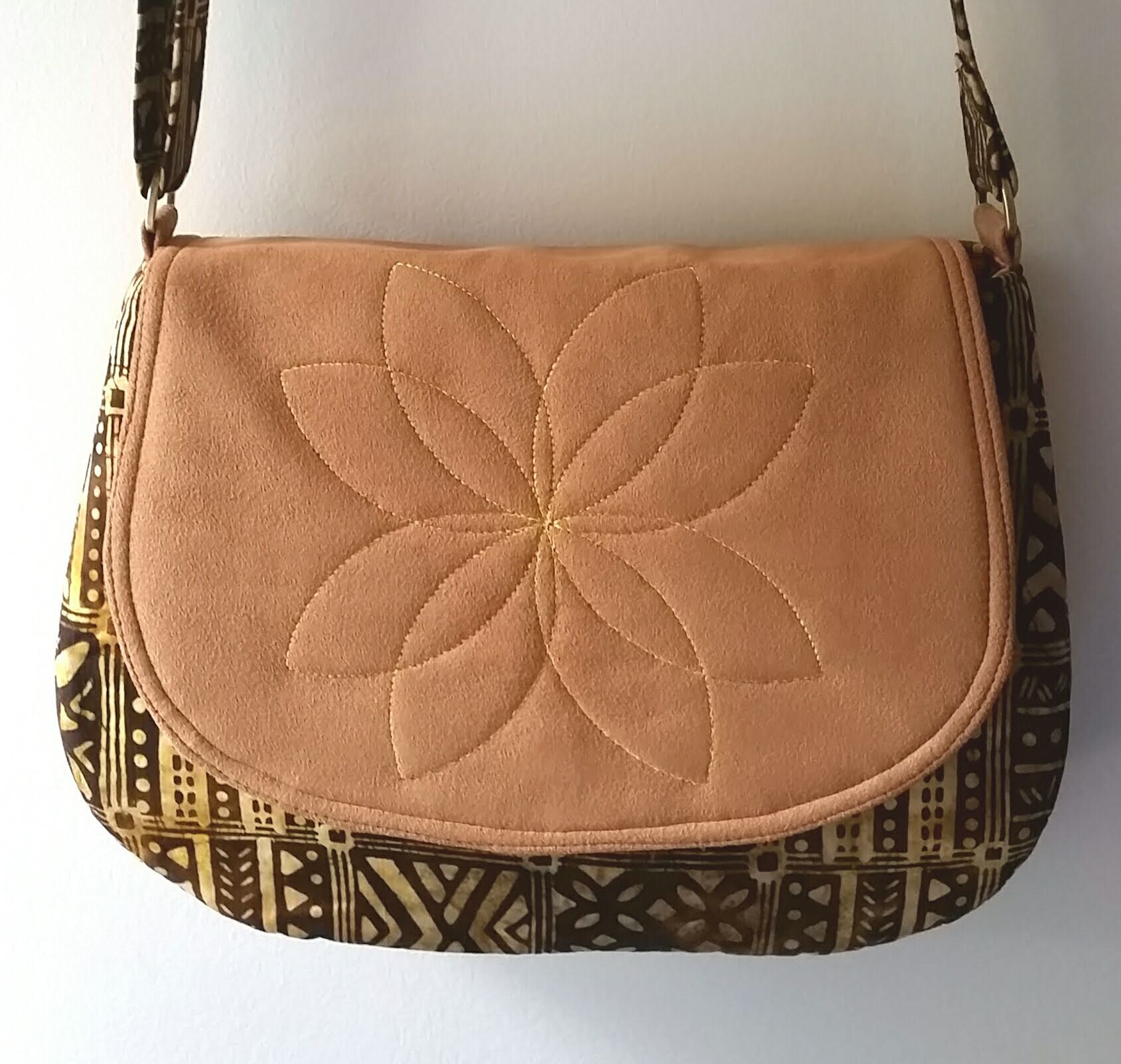 A warm, cozy bag for a day on the town. Brown & gold batik with a quilted floral design on the faux suede flap.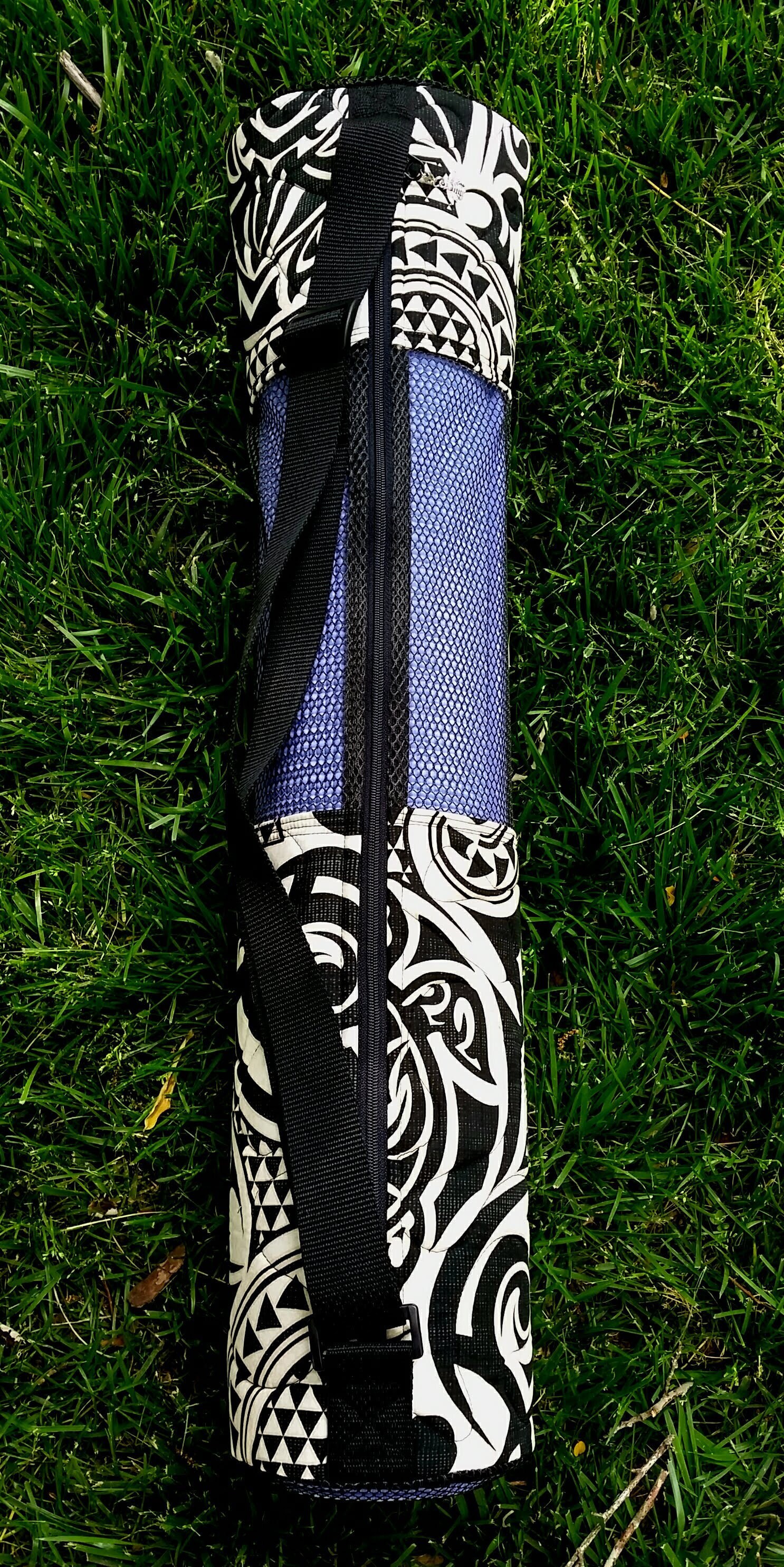 Quilted Yoga Mat Carrier using Hawaiian fabric and center mesh to keep the mat well aired out at all times.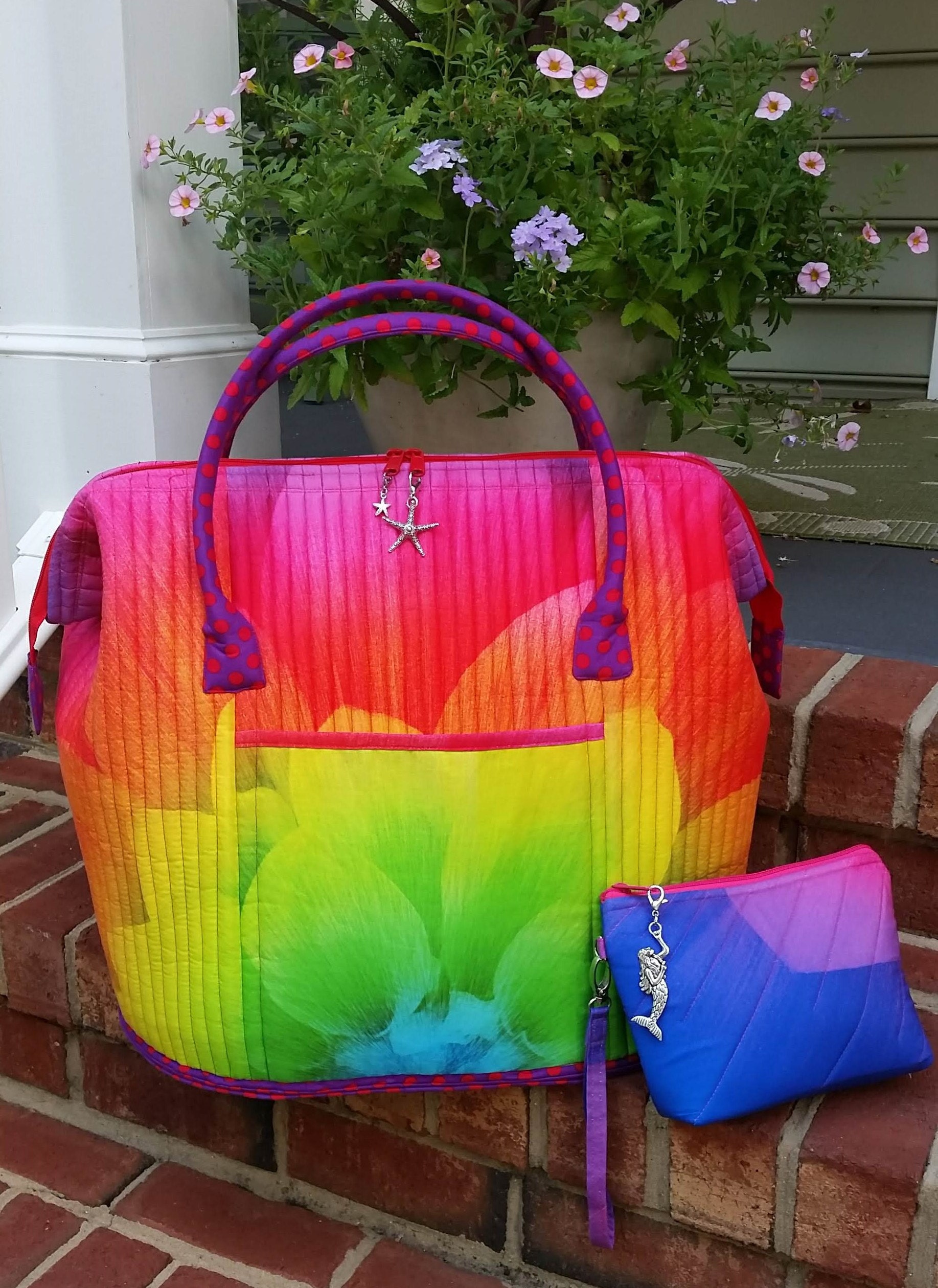 A dreamy rainbow bag for decoration in the home or to carry larger items to & fro.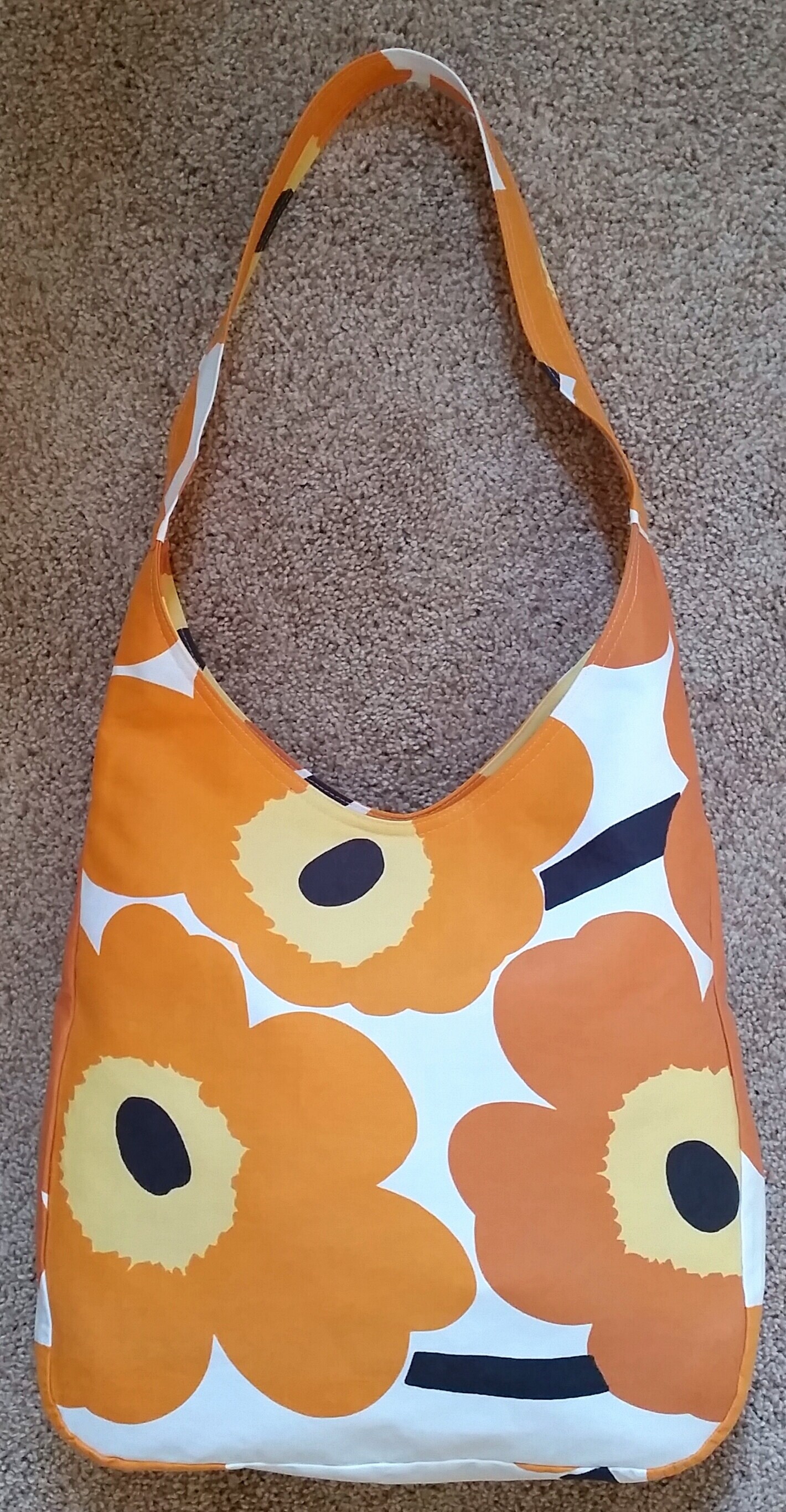 Tote Bag using Marimekko's famous Unikko pattern in orange. Folds up to a small square for easy travel packing.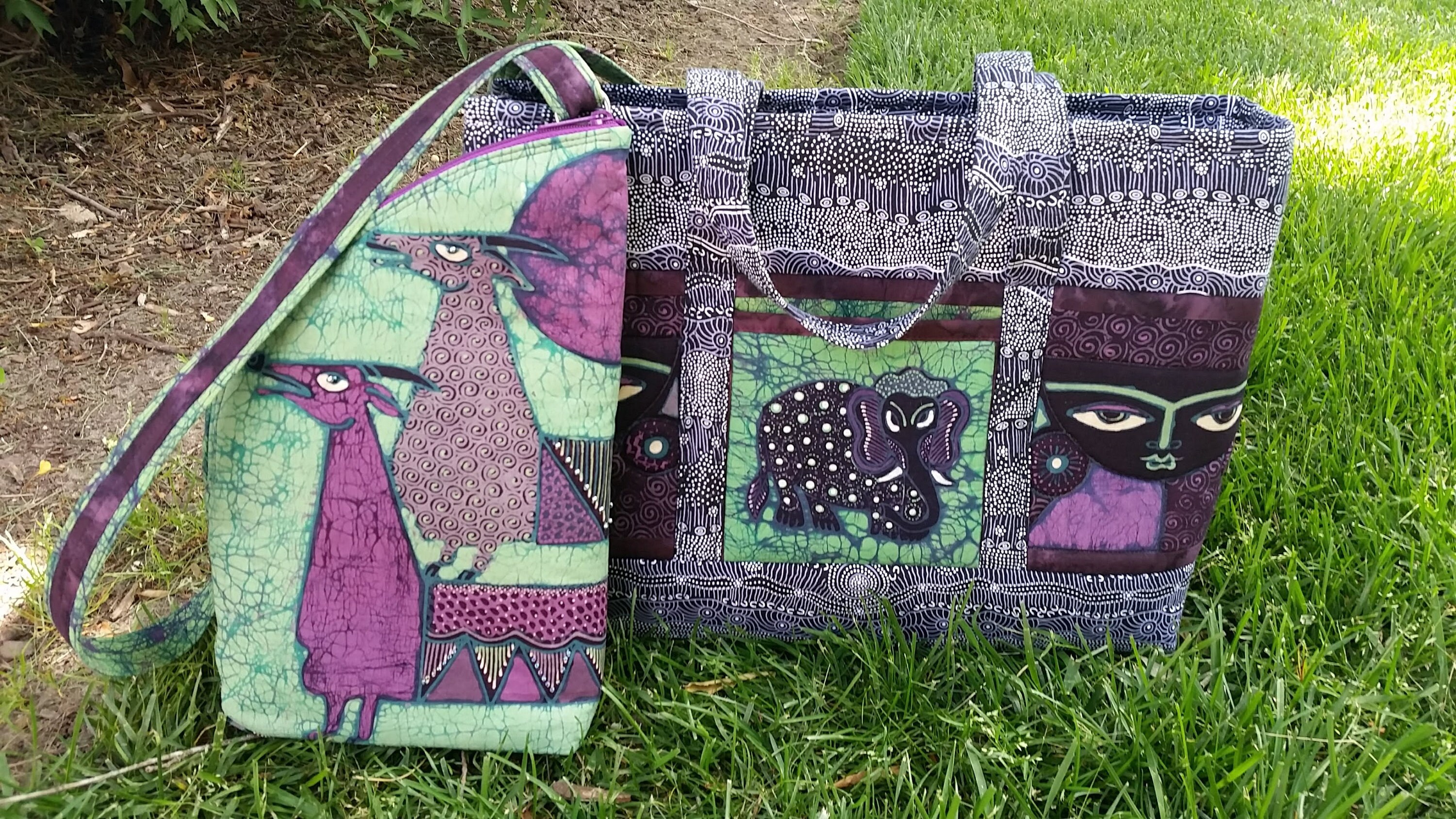 Angle shoulder bag & tote bag in coordinated batik fabrics....a real fashion stunner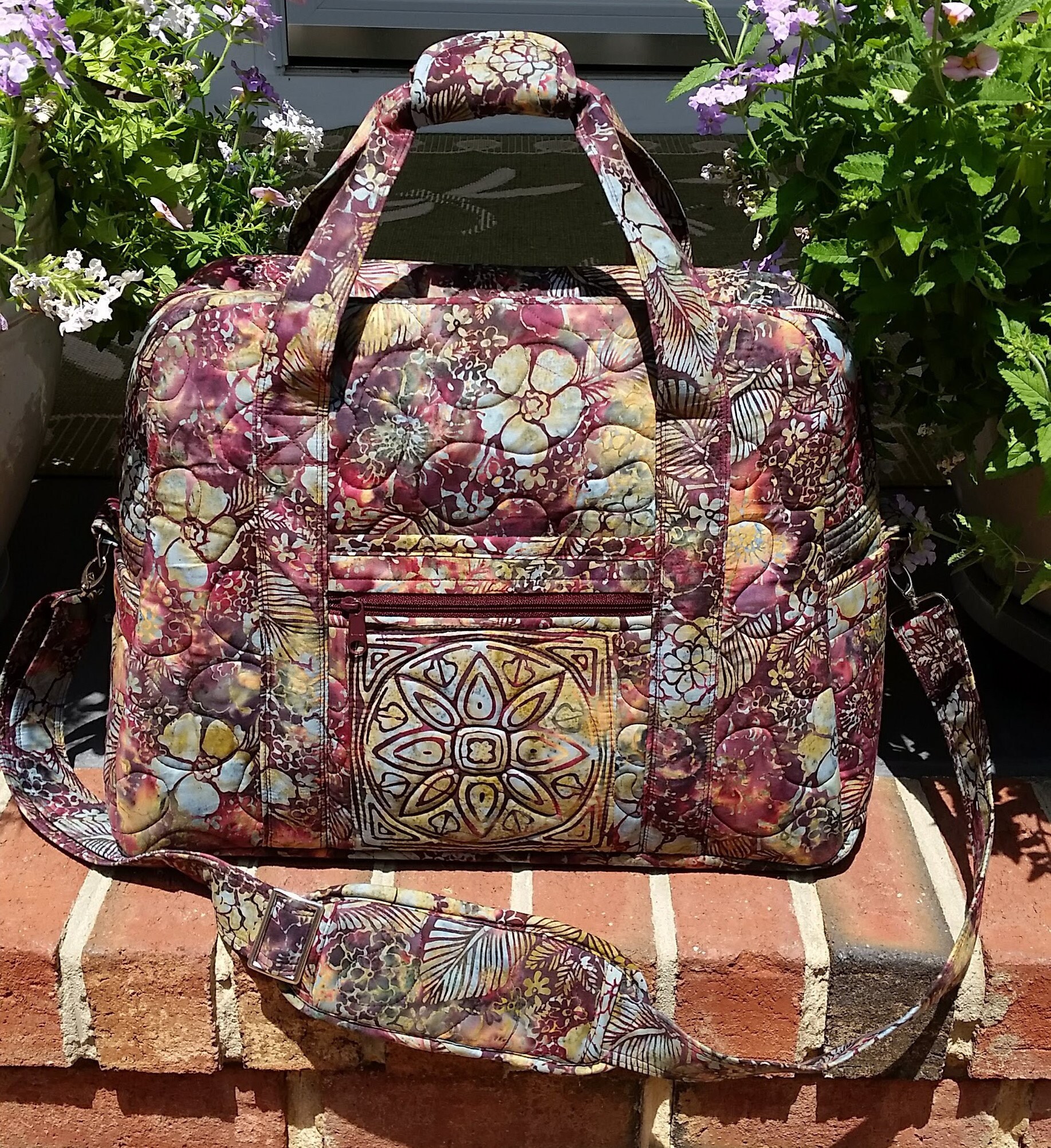 Kelly Karry-On Bag made with a batik. A favorite travel bag as it feels bottomless when packing. It holds more than the eye can see.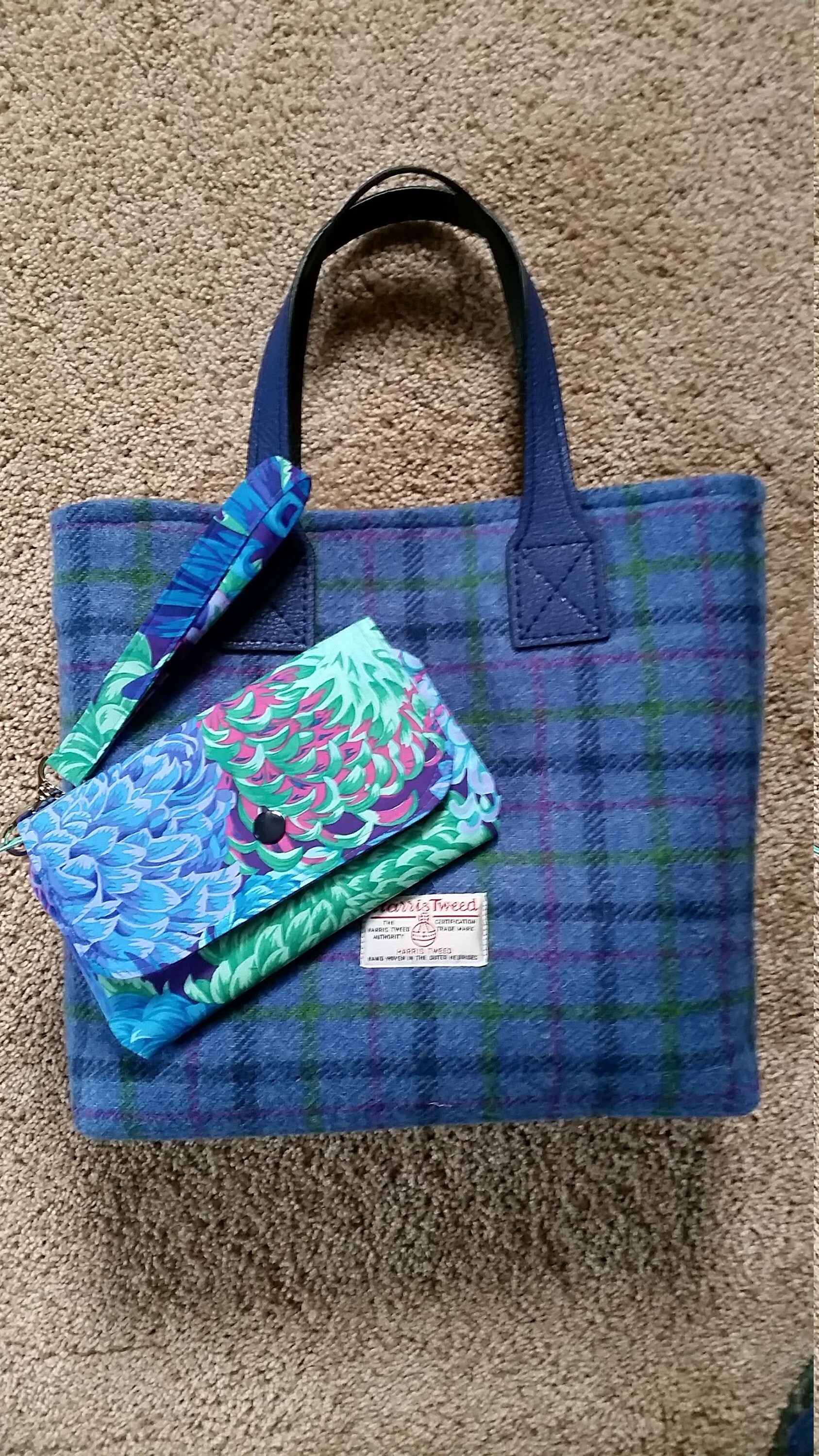 Tote Bag in blue plaid Harris Tweed plus a hand clutch that matches the interior lining.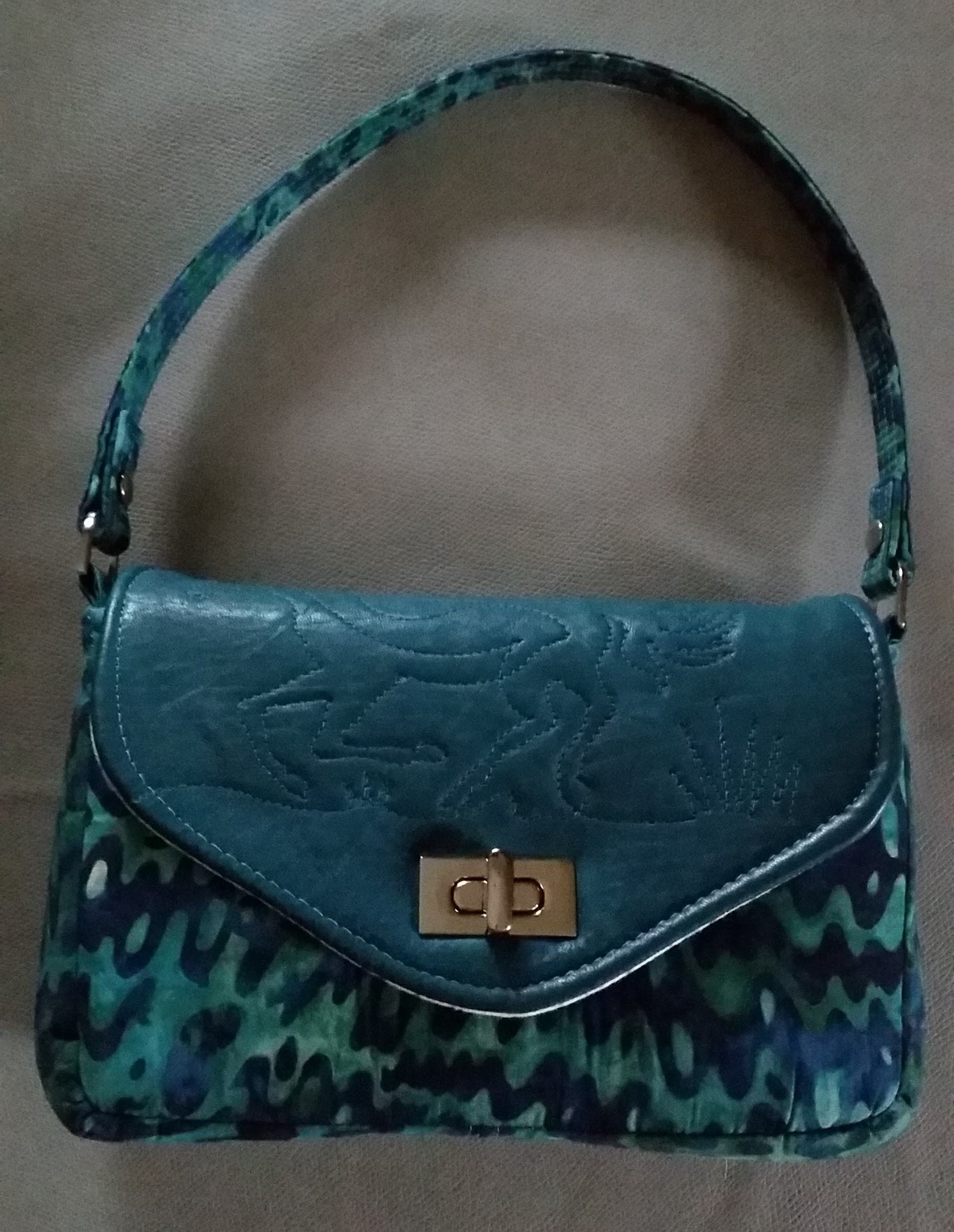 Turquoise leather & cotton handcarry bag. Front flap has quilted design of a "running horse"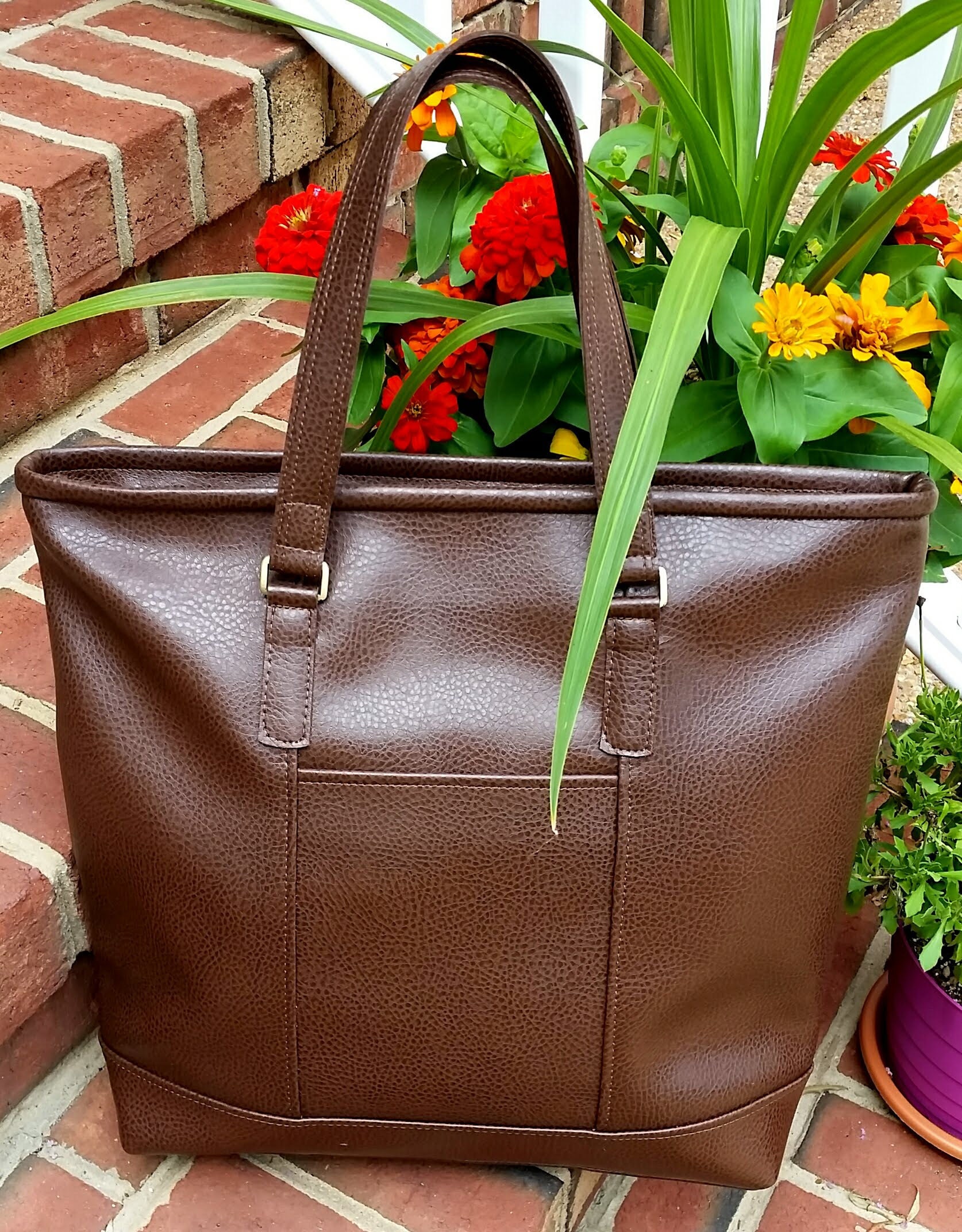 Faux Leather Tote in chocolate brown. Lined with Australian designed fabric for a step on the adventure side.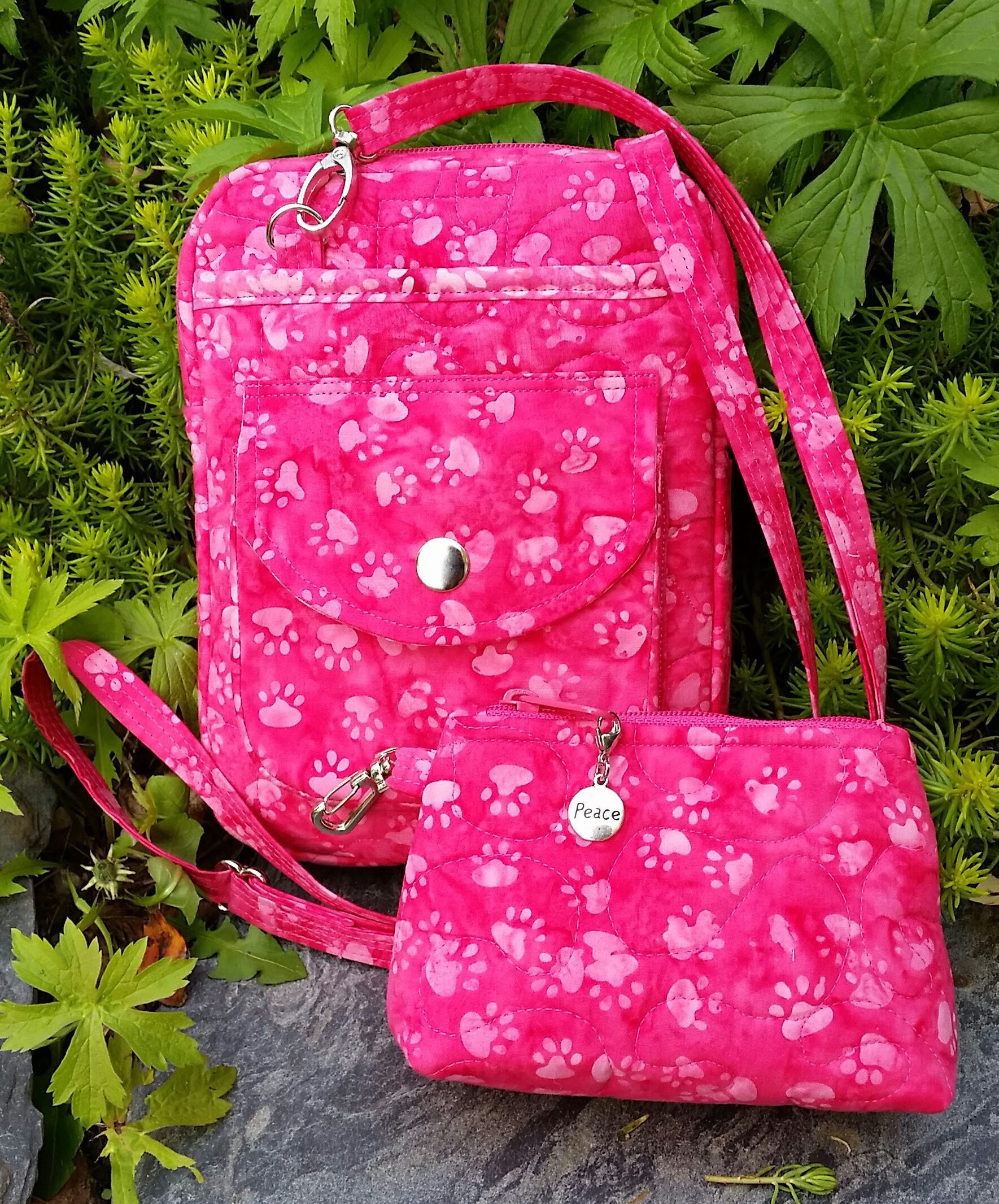 Pink Puppy Paws for the fashionista who loves dogs. Great way to carry essentials such as dog treats along with your phone & CCs.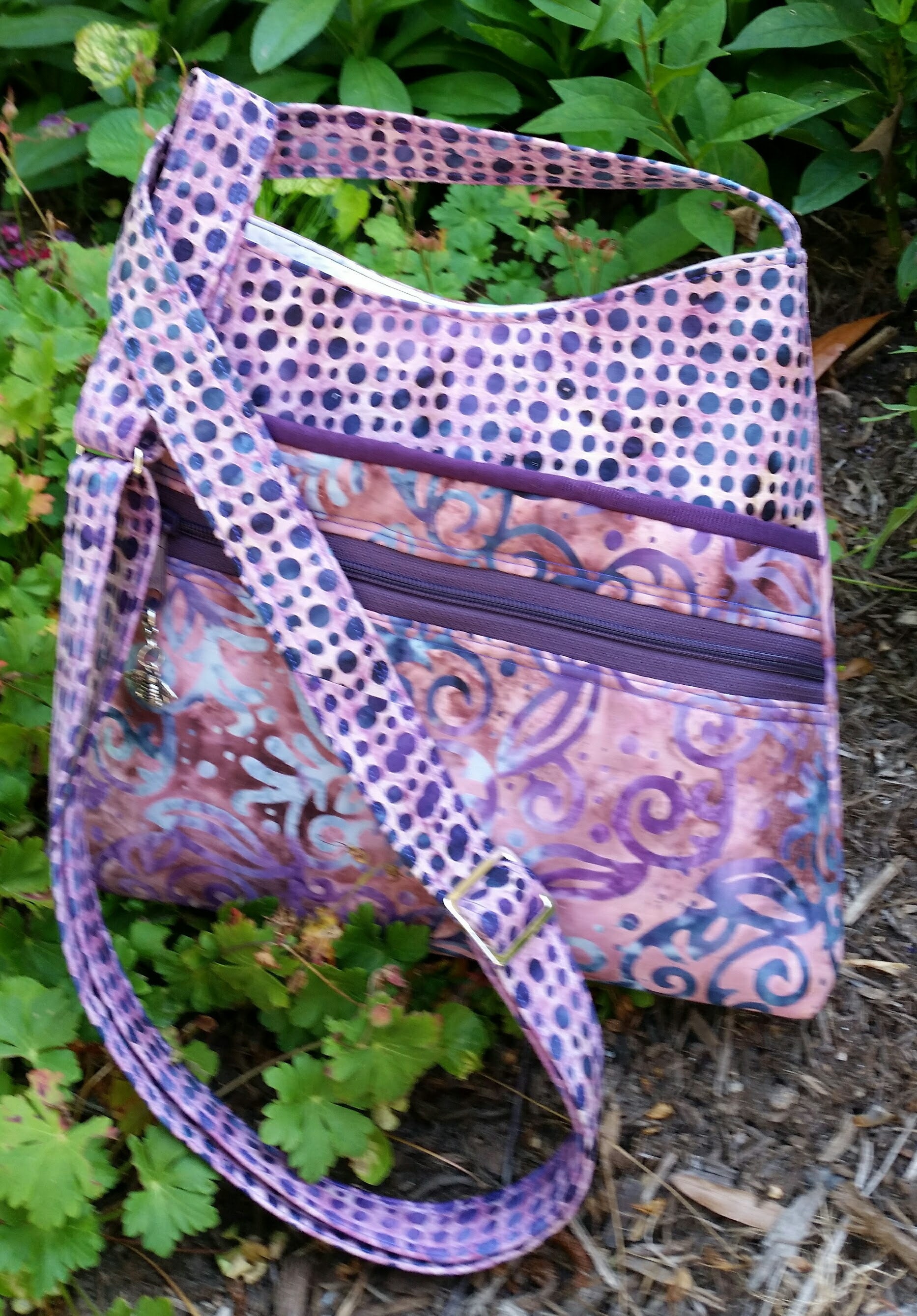 Easy shoulder or crossbody bag.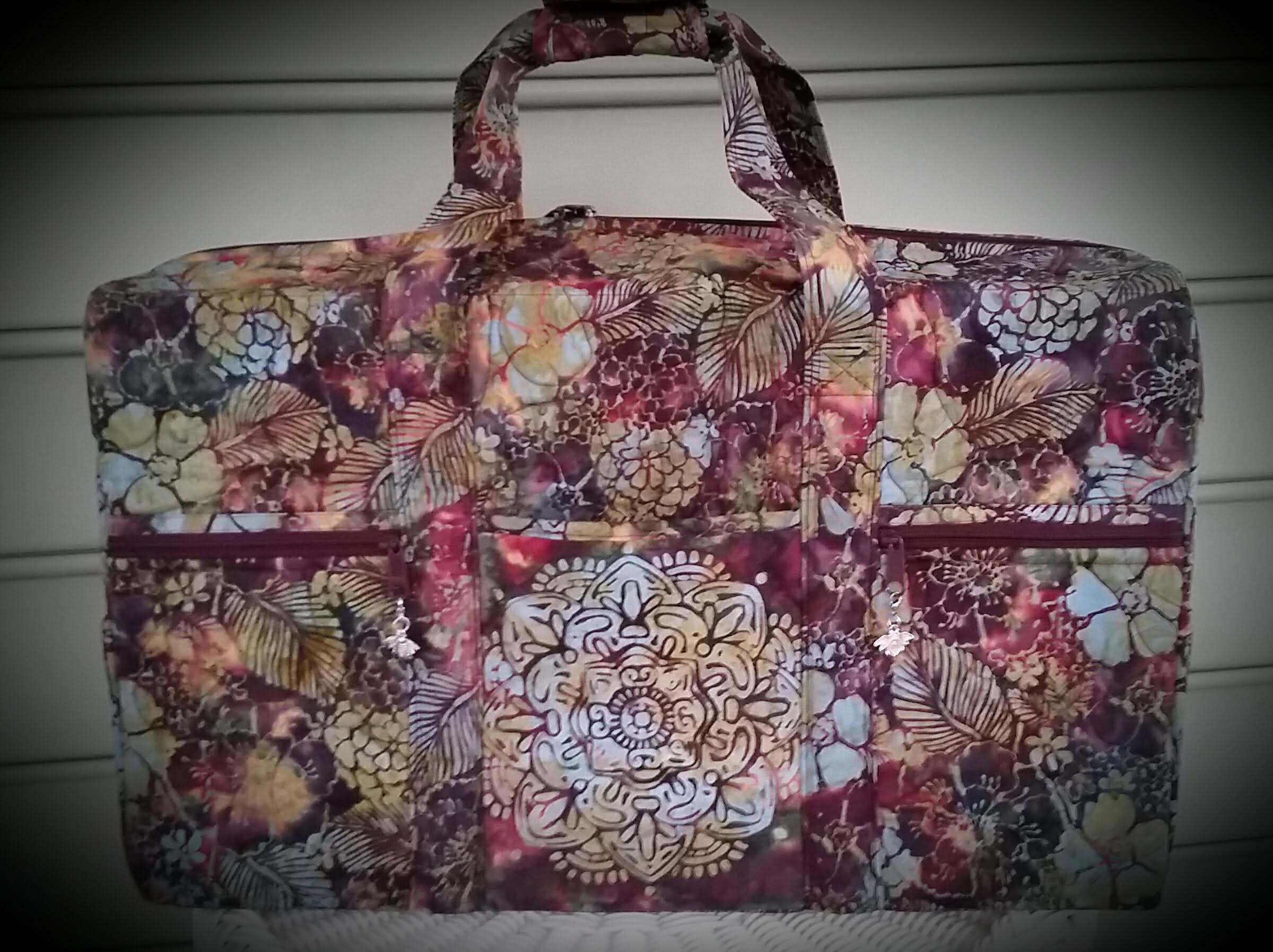 Large Duffle Bag is made using Tonga batik with burgundy mix of colors, Big enough for a week of travel.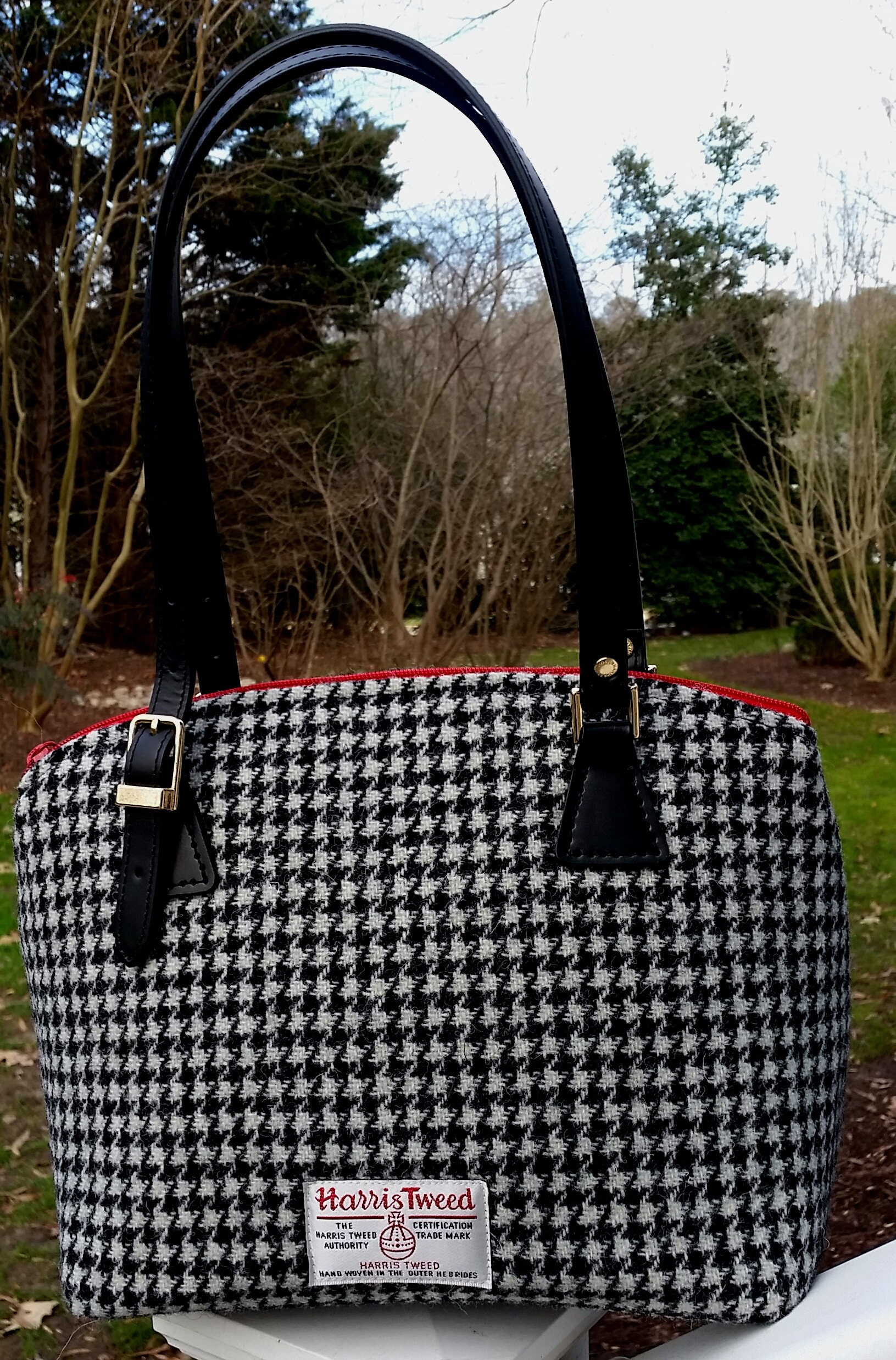 Harris Tweed in black & white houndstooth pattern with a "red twist". Red zipper and bright red interior set this one above all else. Black leather handles for a classy look.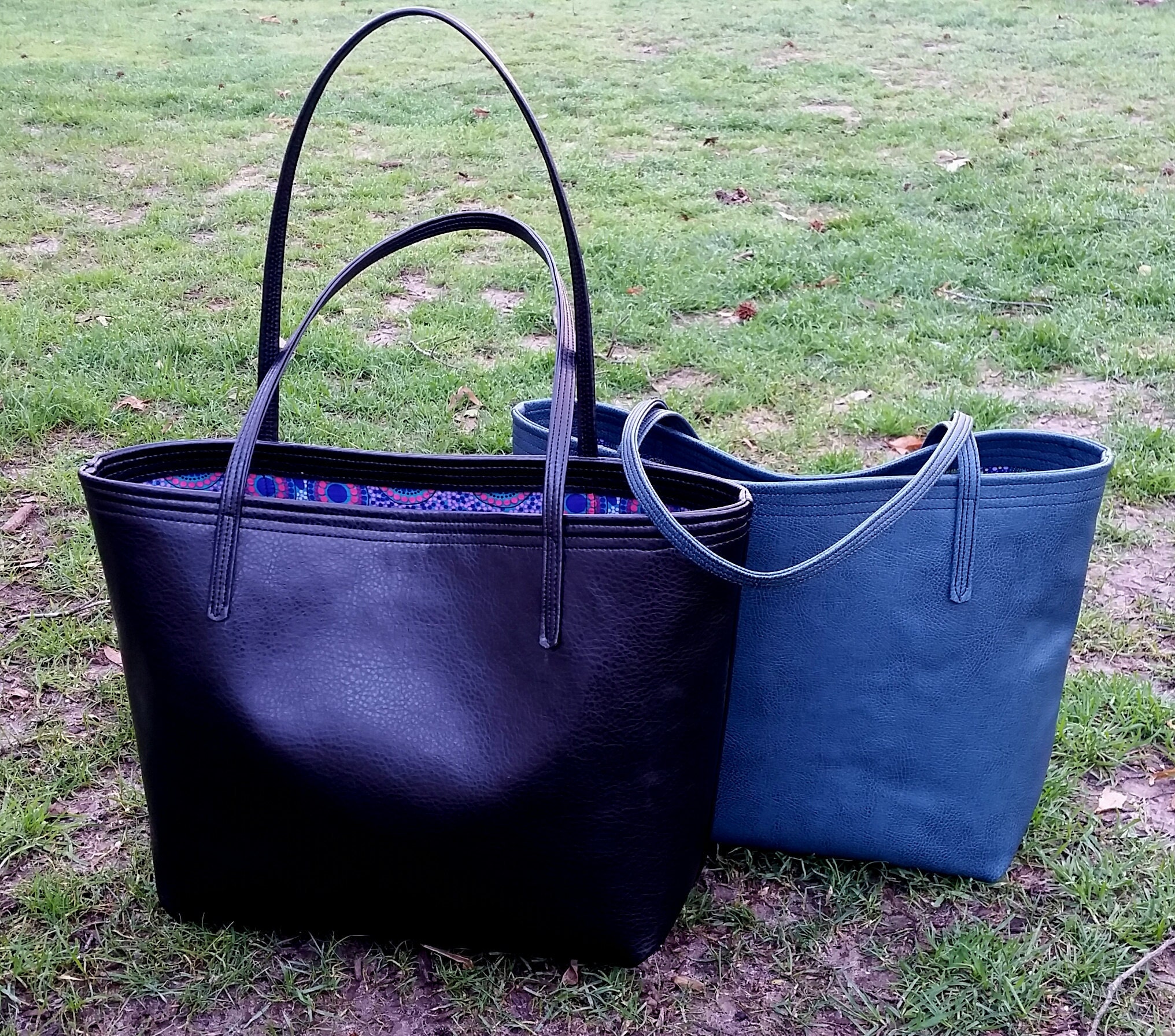 Faux Leather Totes lined with Australian fabric designs. Made for sisters in different colors/fabrics. Each is truly one-of-a-kind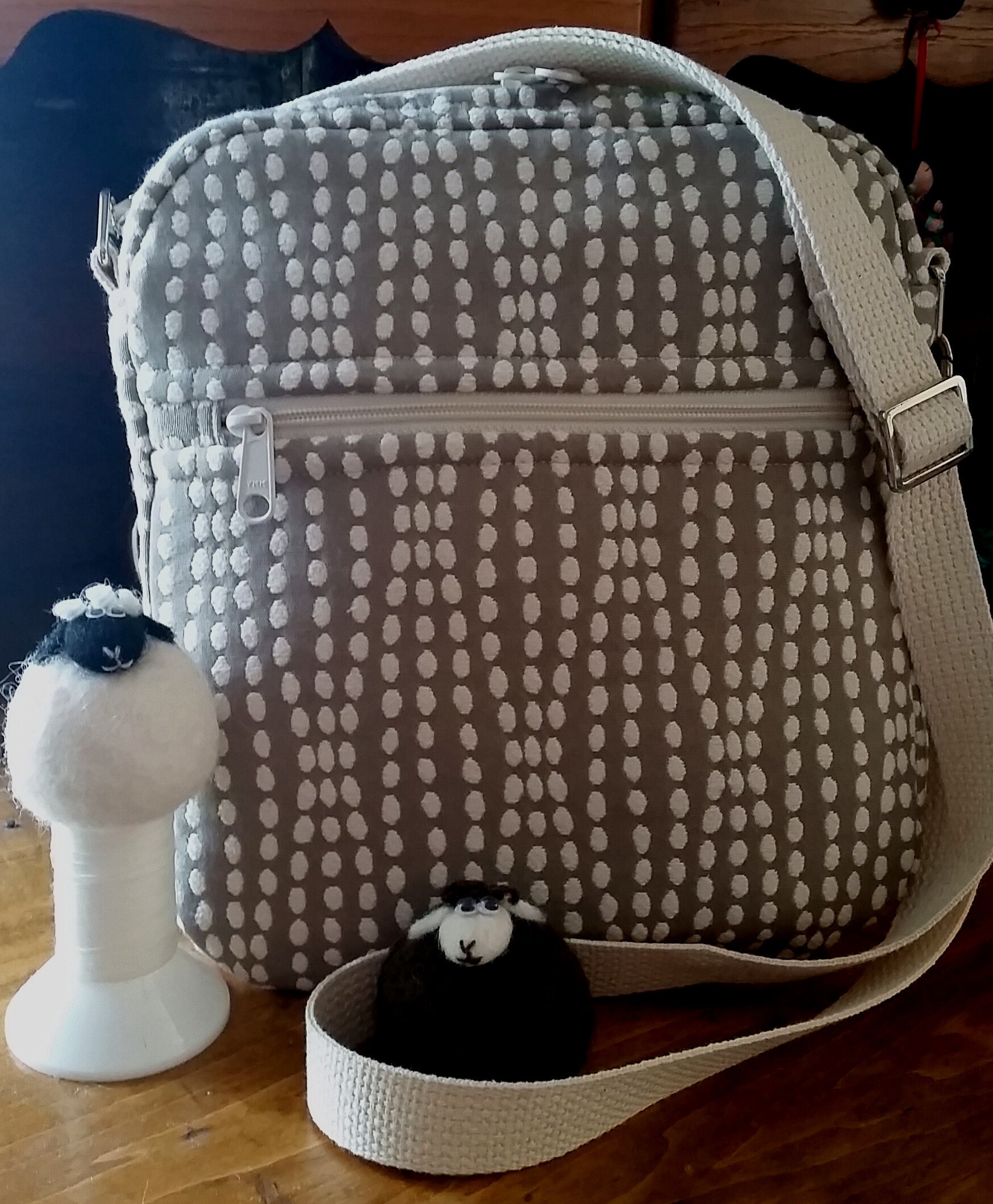 Travel crossbody - easy to carry & large enough to carry essentials & a water bottle around town for the day.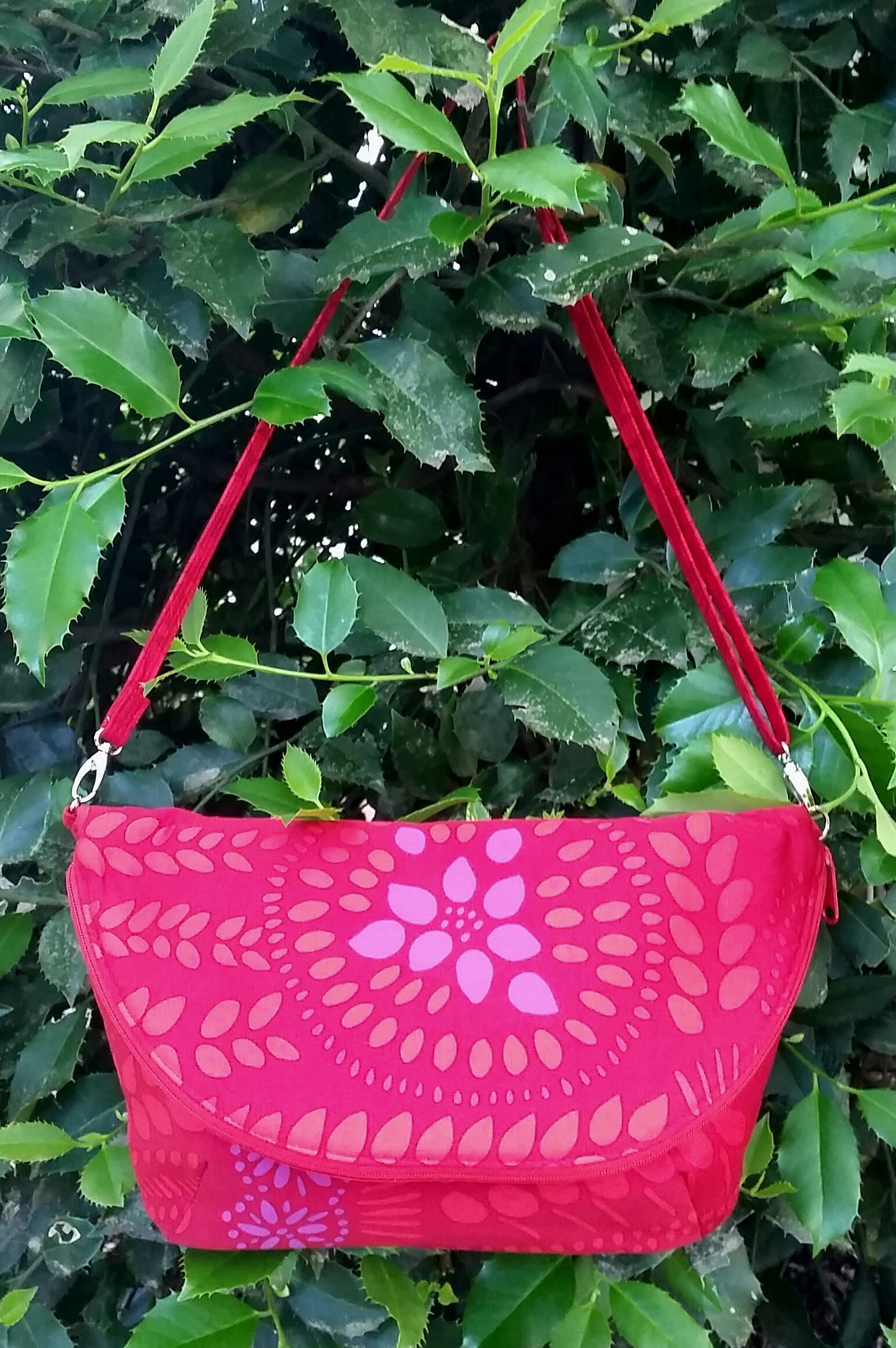 Red Marimekko fabric - the most beautiful red color I've sever seen with hints of lavender in the pattern. An expandable fold-over style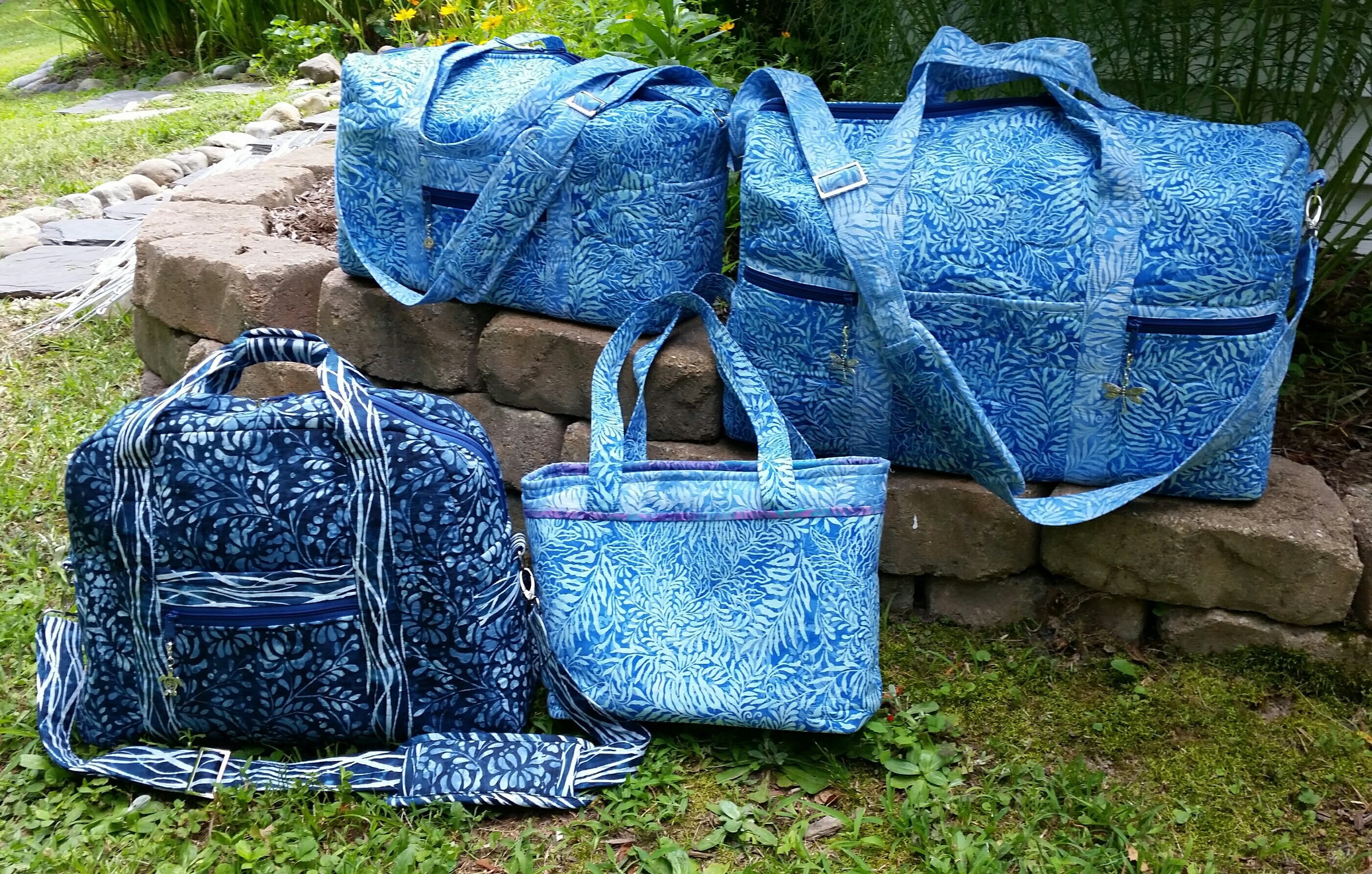 Travel Bag Set - sturdy enough to last and easy to clean, just remove the inner base and toss in the washer/dryer!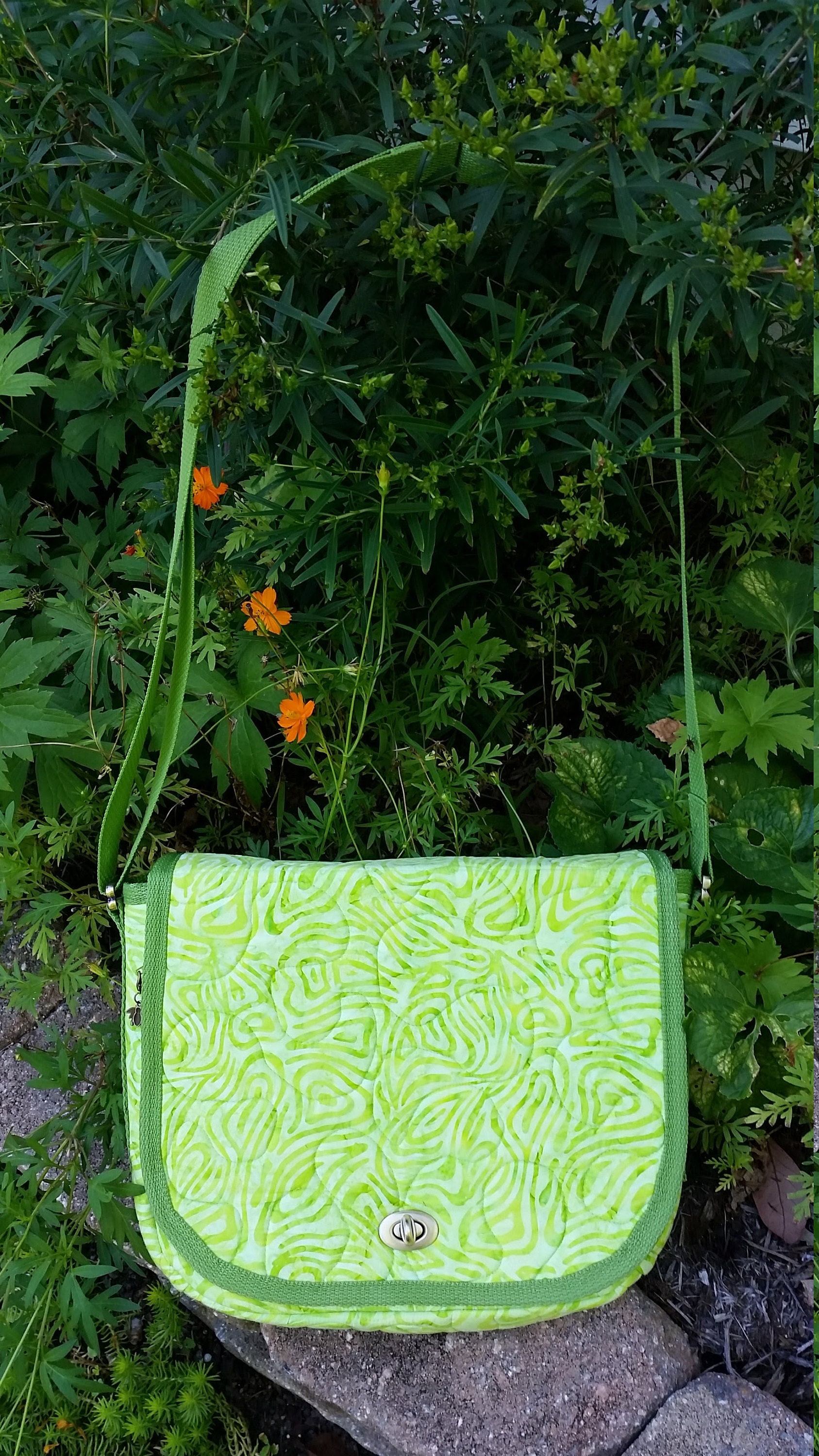 small messenger bag customized to carry bead work supplies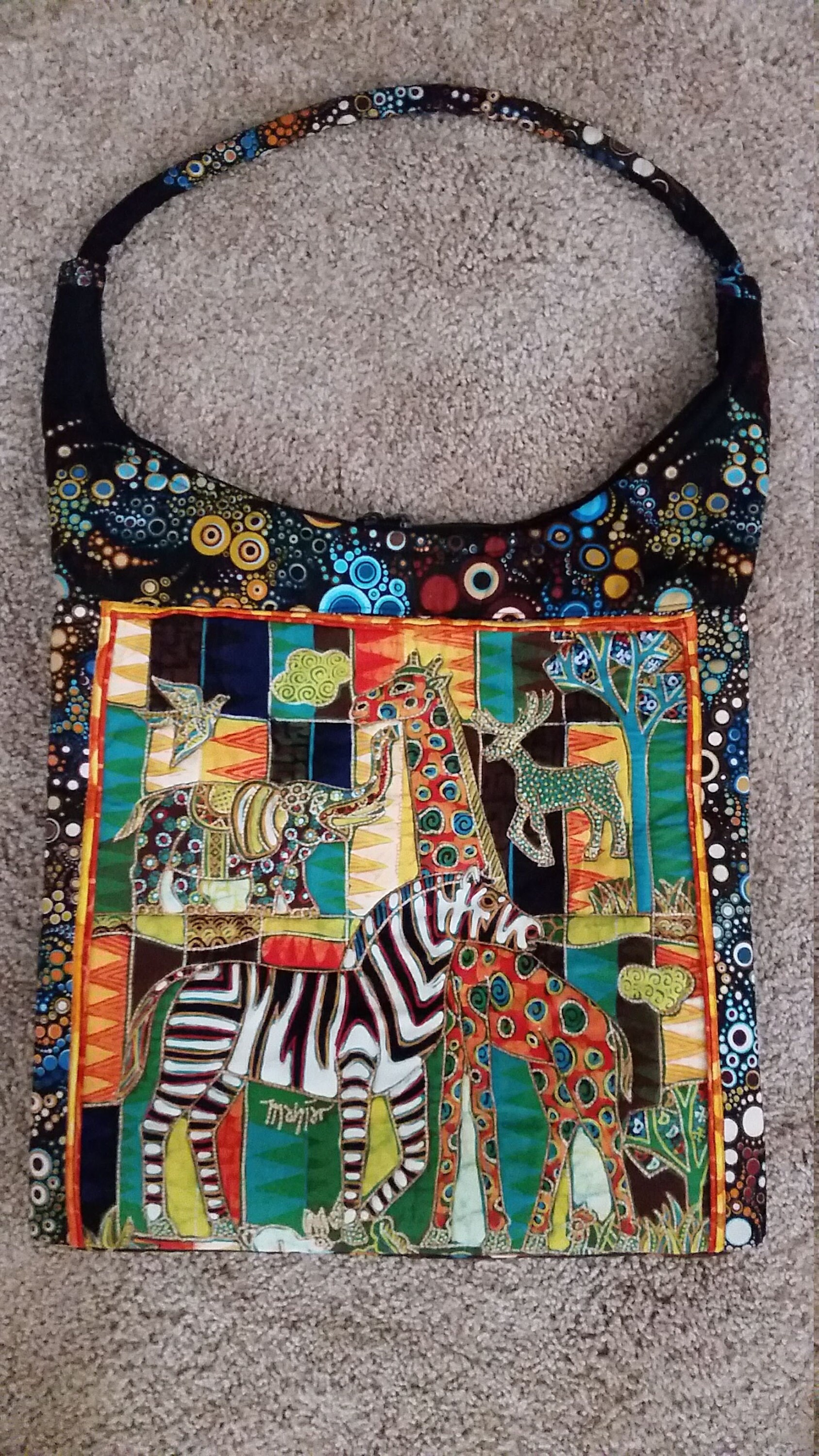 My favorite tote bag - it makes me smile to be surrounded by animals :-)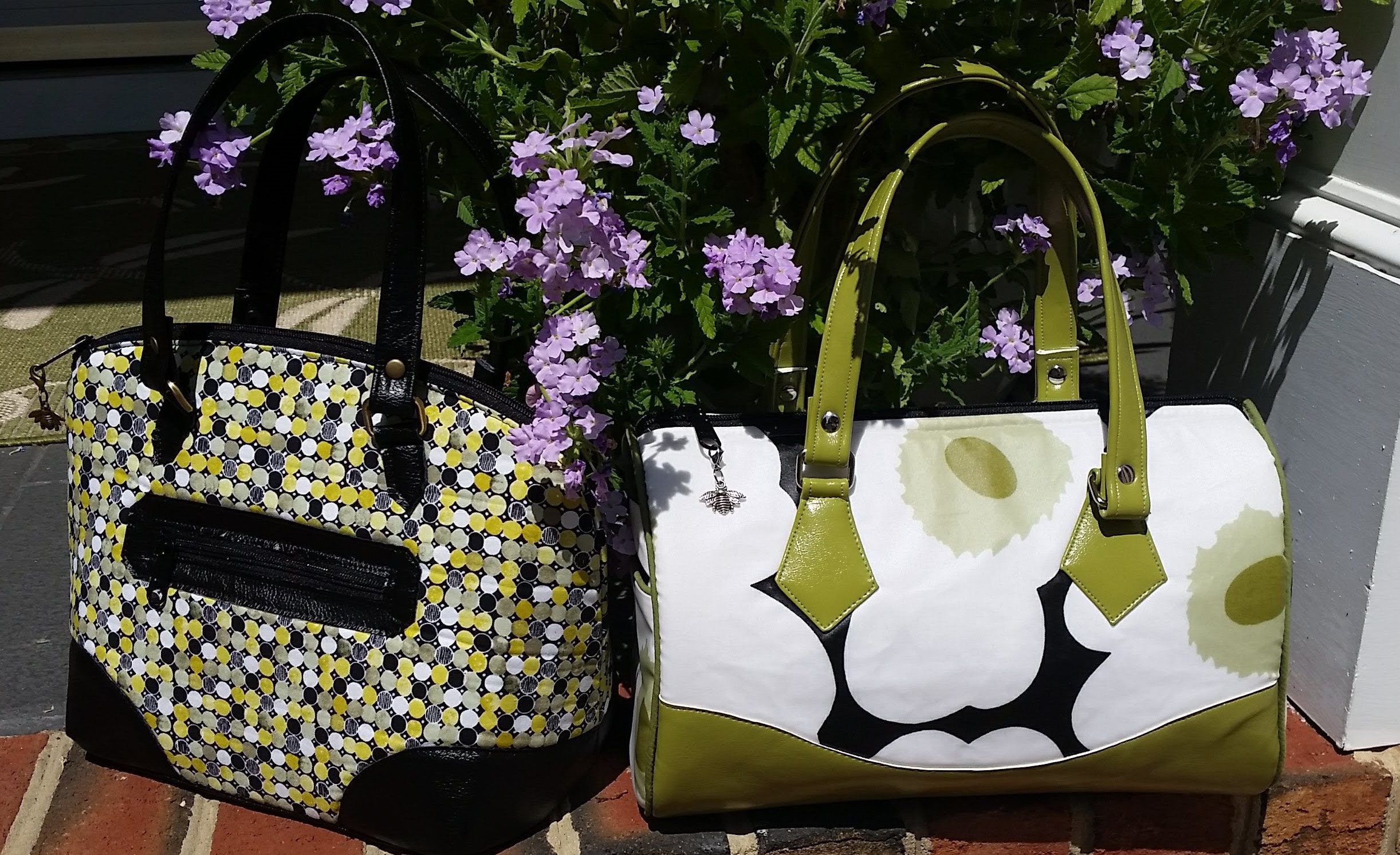 My favorite styles - can hold way more than it appears. I often grab these styles whenever I don't have time to think through what I'll need for the day.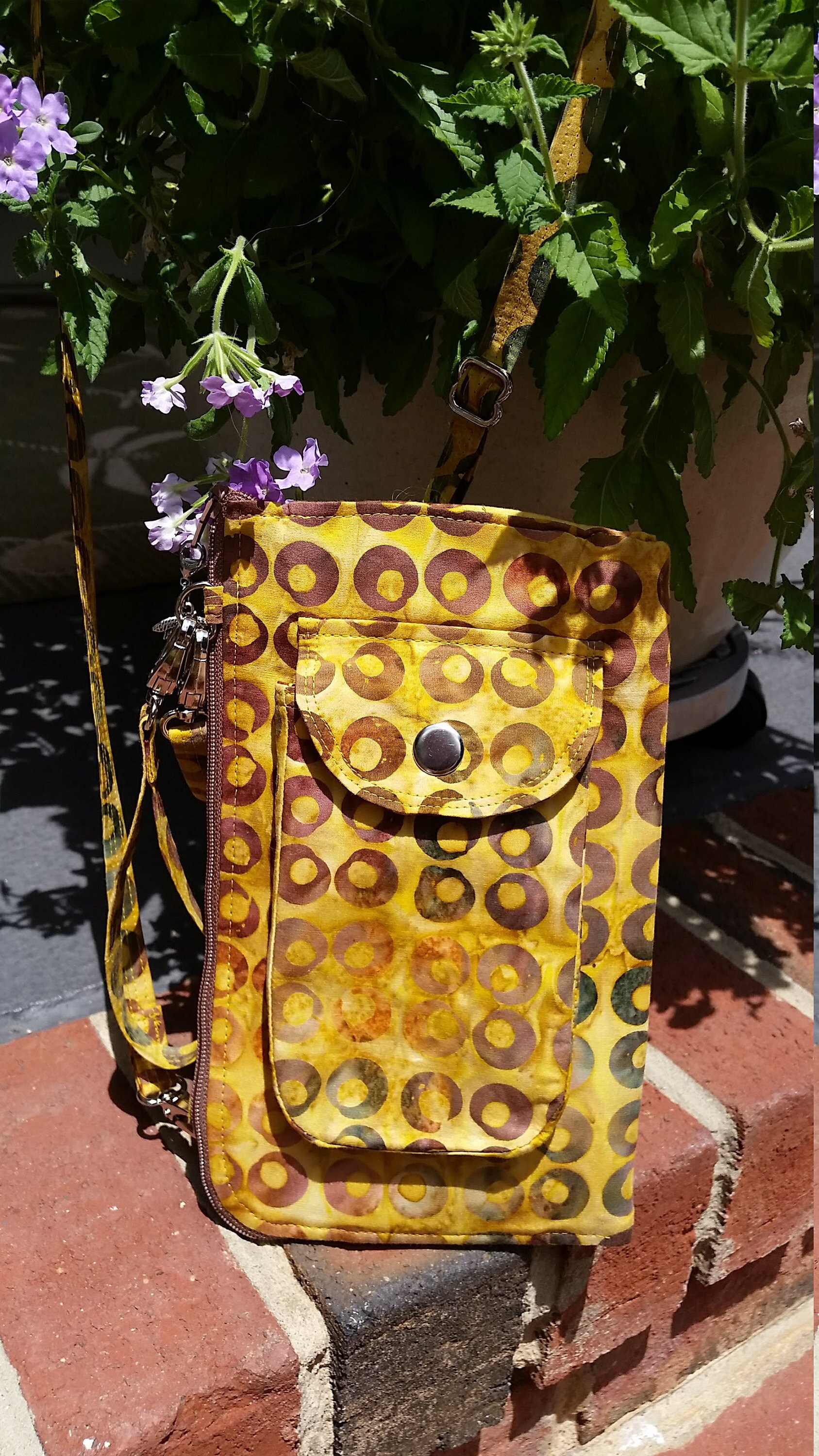 Go Bag Large enough for cell phone, ID, CC and glasses, just grab-n-go